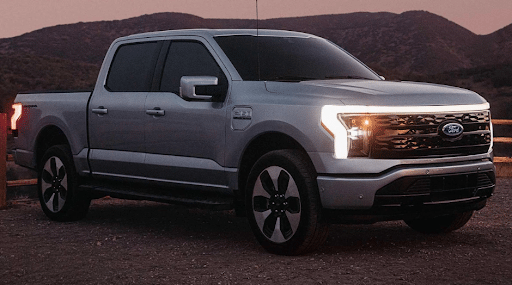 If you're in the market for a new Ford truck for work, you've probably been checking out all the features of the Ford F-150 Lightning. Ford F-150s are well-known for being powerful, durable vehicles, but the Lightning is truly in a league of its own. When you're ready to explore everything the Ford F-150 Lightning has to offer, the team at Southern California Ford Dealers can help you locate your nearest Ford dealership.
Here's everything we love about the Ford F-150 Lighting (and why it makes the perfect truck to get your tasks done):
Capability That Outperforms the Imagination
If you're looking into the Ford F-150 Lightning for work, then the first thing we need to look at is the truck's capability features. And oh boy, does it have a million of them.
First, it has the ability to power up different power that may be needed to complete certain tasks, such as compound miter saws, power drills, and even air compressors. On top of this, the F-150 Lightning offers 11 power outlets throughout the cabin and bed of the vehicle. Drivers can even equip their vehicle with an available 240V outlet in the bed to work on projects outdoors.
And speaking of outdoors, drivers will get a lot of use out of the 80-amp Ford Charge Station Pro to keep your job going even if you initially lose power. Another awesome work feature is the interior work surface, so you can check emails, send invoices, and schedule pickups all from the comfort of your truck.
We also love the F-150 Lightning's impressive torque. In fact, this truck offers 562 horsepower and 775 lb-ft of torque to haul pretty much anything you need. Plus, it offers an EPA-estimated range of 230 miles. Getting your work done (whatever it is and regardless of how you have to travel) has never been easier.
The Technology of the Future
We can't talk about the Ford F-150 Lightning without bringing up its amazing technological features. With the available FordPass, you always have access to roadside assistance if and when you need it, as well as the ability to check your truck's fuel levels and health status - all from the comfort and convenience of your smartphone.
This truck also features Ford Co-Pilot360 technology for added comfort every time you get behind the wheel to meet a client or drive to a worksite. These safety features include:
Lane Keeping System, which will bring you back to your lane if you accidentally start to drift.

Pre-Collision Assist, which automatically deploys the brakes on your behalf if the system senses a frontal collision with either another car or pedestrian.

Ford Bluecruise Hands-Free Driving, which contains a driver-facing camera inside the cabin near your dashboard to make sure you're always keeping your eyes on the road. This is a great feature for parents, especially if they let their teen driver borrow their truck.

Adaptive Cruise Control to help set and maintain your speed even if the flow of traffic changes.
While these are just some of the amazing technological safety features you'll find in the Ford F-150 Lightning, they're all ones designed to give you added comfort and peace of mind every time you get behind the wheel.
A Stylish Exterior Meant to Turn Heads (And a Comfy Interior Designed for Ultimate Luxury)
Other drivers on the road will take a second glance when you roll up next to them at a stoplight. The F-150 Lightning has outdoor LED lighting so if you're working well into the evening, you can easily see what you're doing.
Not only can this truck comfortably seat up to five passengers, but everyone inside will love the Bang & Olufsen sound system with eight speakers and an impressive subwoofer, as well as the twin-panel moonroof to give you a better view of the sky on your journey.
Everything You Need in a Truck that Stands Out from the Competition
Whether you're using your Ford F-150 Lightning for work or leisure, one thing's for sure: this truck is hard to beat. When you're ready to take the F-150 Lightning out for yourself, contact the team at Southern California Ford Dealers. We will help you locate your nearest Ford dealership.
We look forward to helping you get started on finding the perfect Ford F-150 Lightning for you today!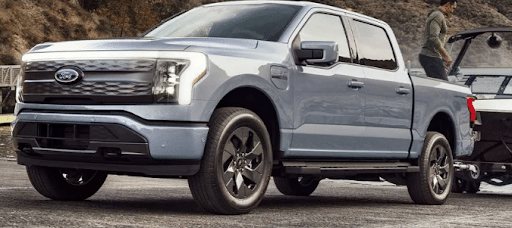 Back to all blogs