Work in Construction? 5 Reasons Why the Ford Super Duty is the Perfect Truck for the Job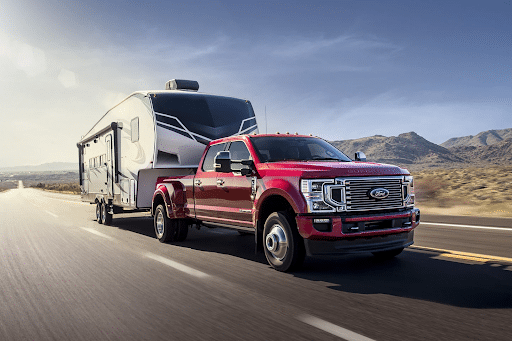 At Southern California Ford Dealers, we know that when you work in construction, not just any pickup truck will do. That's why we can't wait to show you the new line of Ford Super Duty trucks.
Dependable, powerful, and built to suit your unique needs, a Super Duty truck is more than just a vehicle. It's a partner. Check out these five reasons we think the Super Duty is a construction work necessity.
With the Super Duty line of trucks, you'll have your choice of gas or diesel engines. For daily strenuous activity, the 7.3L V8 gas engine gives you a perfect pairing of power and endurance to withstand the test of time.
For the heaviest of heavy lifting, look no further than the V8 Turbo Diesel engine, which provides an incredible 475 horsepower and 1,050 pound-feet of torque! You'll be able to rest assured that no matter what you are hauling, the Super Duty has what it takes to get the job done.
Both types of engines are paired with the TorqShift 10-speed automatic transmission, which gives you five selectable modes to choose from based on the terrain and workload of the day.
No matter what your needs may be, the Super Duty has the engine power to get the job done.
For towing and hauling, the Super Duty has no equal. Its maximum tow rating for both the gas and diesel engines outperforms all other heavy-duty trucks in its class. You'll never have to leave important cargo or equipment behind again.
If you think you have a load too massive for the Super Duty to handle, think again. The available 37,000-pound gooseneck tow rating and maximum 32,500-pound 5th wheel tow rating mean that no matter what you're hauling, the Super Duty has you covered.
That's not all. The Super Duty line also boasts a best-in-class rating for payload and has all kinds of available features to ensure you get the most out of its capability. Ask a Southern California Ford Dealers team member about everything that puts the Super Duty ahead of the pack of heavy-duty trucks.
The Super Duty line wasn't designed solely with pavement in mind. Whether you're headed to an unfinished worksite or just looking for some off-roading fun, the Super Duty is equipped to smooth out a bumpy ride.
The available Tremor Off-Road Package is essential if you frequently wander off the beaten path. Featuring systems like Trail Control and Rock Crawl modes, in the Super Duty, you'll be prepared for any and all kinds of challenging terrain.
Never fear a loss of grip again. The Tremor Package is available with 35-inch maximum traction tires. For wetter climates, the Package is capable of a best-in-class 33-inch depth water fording.
All this in addition to the exterior LED lighting, tailgate step, and integrated electric winch makes the Super Duty an off-roader's dream.
With the kind of strain the Super Duty sees every day, you'll be amazed at its staying power. That is because it is the only truck of its kind built with a military-grade aluminum-alloy body and a frame of superior strength steel.
The frame itself comes fully boxed and is designed to withstand incredible strain. It is an improvement on the old Super Duty design – 24 times stiffer, to be exact! It's for this reason that the Super Duty is known for its superior hauling capability.
The Super Duty has been put through an array of rigorous tests, under both real and simulated conditions. Neither extreme weather, difficult terrain, nor massive amounts of mileage could break this new line of Super Duty trucks, so you can rest easy that you won't either.
State-of-the-Art Technology
We know staying connected is important, especially while on the job. In the Super Duty, you'll have the best of the best technology right at your fingertips.
If you're doing a lot of hauling, the Trailer Tow Camera system will be your new best friend. Equipped with Trailer Backup Assist and 360-degree cameras, this feature will allow you to reverse, change direction, and brake with confidence when your trailer is attached.
Out on remote sites a lot? Ask a team member about FordPass Connect, which provides an in-vehicle Wi-Fi hotspot. You'll be able to connect to the hotspot even from up to 50 feet away, ensuring that you have access to whatever online materials you may need.
All these features and so much more are available in the Super Duty.
About Us
Southern California Ford Dealers is a network of dedicated and experienced Ford dealerships located in the greater SoCal area. From our website, you'll be able to browse hundreds of dealership inventories, or find your nearest location and set up a test drive.
The Southern California Ford Dealers group is excited to show off the new line of Ford Super Duty trucks. Its superior power, towing ability, and longevity make it the ideal vehicle for construction work. We are confident that you'll agree.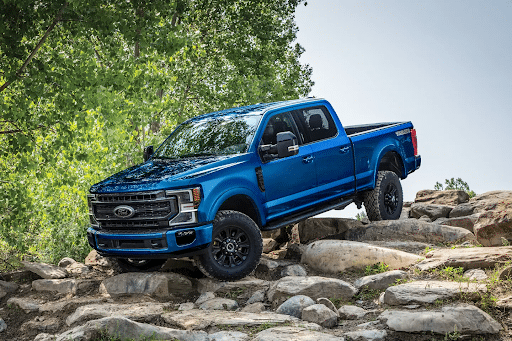 Back to all blogs