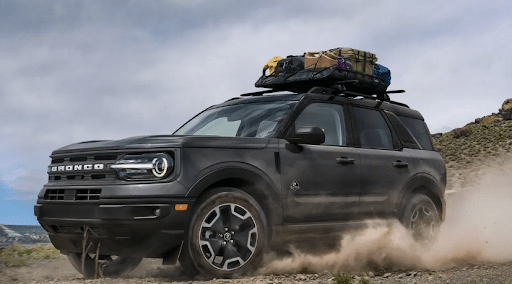 The Ford Bronco Sport: a vehicle built for adventure and designed to stand the test of time. Whether you want to drive off the beaten path or load up a couple of kayaks and explore the expansive Pacific Ocean, you can do it all in a stylish but comfortable Bronco Sport.
The team at Southern California Ford Dealers knows everything there is to know about the Ford Bronco Sport. New and improved, this vehicle can do it all.
Ready for Adventure and Capable of Handling One
Once you get behind the wheel of a Bronco Sport, the world is your oyster. This vehicle can travel where most vehicles on the market can't, giving you the freedom to explore everything the beautiful state of California has to offer.
A lot of this capability has to do with the Bronco Sport's impressive ground clearance and water fording capability, which allows you to traverse off-road terrains. This vehicle has been proven to withstand different environments and physical elements, including water, rocks, mud, sand, and even snow.
The G.O.A.T. modes (Goes Over Any Type of Terrain) make traversing these environments easier. Just switch between the Sand, Eco, Sport, Slippery, and Normal modes to experience a safer, more enjoyable drive over any terrain.
Technology Designed For a Comfortable and Safer Drive
Whether you're using your car for travel or to the grocery store around the corner, you want to be comfortable. And part of that comfort is the advanced, enjoyable technology only offered in the Bronco Sport.
First up: safety. The Ford Bronco Sport has a 180-degree camera so you can easily see your surroundings, whether you're parallel parking or switching lanes. This camera projects an image on your center console screen that shows you what lies ahead. It also has breadcrumb navigation, which can get you back to the route you started on if you get accidentally turned around.
You can also take advantage of the Bronco Sport's multiple safety features, which include:
Blind-spot monitoring, which will let you know if another vehicle is traveling in your blind spot. This system also comes with a cross-traffic alert, so you always know what's behind you before backing out of a parking spot.

Pre-collision assist, which will automatically detect a front collision with either another car or pedestrian. If you fail to brake in time, the system will automatically deploy the brakes for you.

Lane-Keeping System, which will let you know if you start drifting out of your lane of traffic. If this behavior continues, a little coffee cup icon will appear on your dashboard, reminding you to pull over and take a break.

Rear view camera, so you have a better look at what's behind you before you back up. You can also equip this camera with the available built-in washer so you can keep it clean if it starts to build up dust or pollen.

Automatic high-beam headlights, which will adjust to poor lighting conditions and dim when another vehicle is detected. This gives you the freedom to concentrate fully on the road ahead and not worry about flipping your high beams on and off throughout your drive.
Drivers can also utilize the FordPass, which gives you the ability to lock and unlock your vehicle remotely, check the health status of your Ford Bronco Sport, and even check the oil and fuel level all from the comfort of your smartphone. With the FordPass app, you can even get 24/7 roadside assistance if and when you need it. With a Ford Bronco Sport, you're never far away from technology designed to help you when you need it most.
A Thing of Beauty and Convenience
No conversation about the Ford Bronco Sport would be complete without taking a moment to mention its stylish and rugged exterior. It has that beautiful, iconic grille and those sleek, rounded curves to provide an updated, modern aesthetic. It comes in a variety of colors, so you can always find a style that matches your vibe.
But this car is also convenient. Do you want to go camping? In a Ford Bronco Sport, you can do it, as you can equip your vehicle with a rooftop tent. Want to load your cargo? You can, thanks to the safari-style roof that allows you to load luggage, kayaks, bikes, and skis up to 150 pounds.
Whatever You're Up For, Make it Happen in a Ford Bronco Sport
If you're in the market for a new vehicle, look no further than the Ford Bronco Sport. The team at Southern California Ford Dealers can help. We'll help you locate your local Ford dealership so you can test drive the vehicle of your dreams!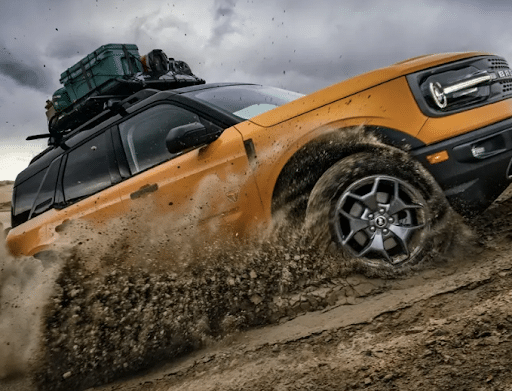 Back to all blogs