Should I Buy or Lease a New Car?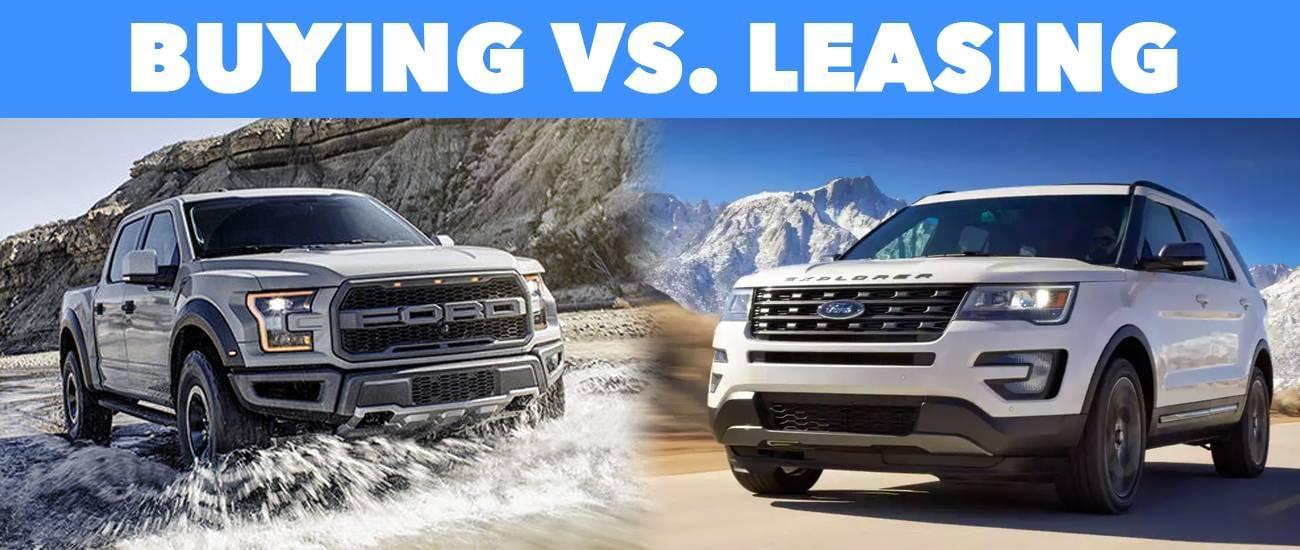 Choosing a new Ford model is an easy decision. Whether it's the hardworking Ford F-150, the sporty Mustang, the versatile Explorer, or the ultra-efficient C-Max, you can finance or lease Ford cars, trucks, and SUVs without thinking twice. But which is the better option to take your make your new Ford yours? Should you buy or lease a new car?
Luckily, your Ford finance center has you covered. You can finance or lease Ford cars of all kinds at your Southern California Ford Dealers. And these questions can help you decide whether buying a new car or leasing it is best for you.
How Long Do You Keep Your Cars?
Typical lease terms are between two and three years, and Ford Options even offers a 48-month lease. But if you plan to keep your car for less than two years or longer than four years, leasing might not be the most appealing option for you. Penalties and fees can be high to get out of a lease early, or you may not be ready to give up your car when the lease is due.
How Many Miles Do You Drive Annually?
When you own a vehicle, it doesn't matter how many miles you drive. While high mileage decreases your resale value, it only factors in when you're ready to trade it in or sell. On the other hand, when you lease a car, the over-mileage penalty can be tough to swallow. But for drivers who average less than 20,000 miles per year, leasing is a great alternative.
How Much Wear and Tear Do You Expect?
Of course, you'll want to keep your Ford in great shape. But over time life happens, and your car can take the brunt of it. It doesn't make much of a difference when you own your car. But if you lease, there may be excess wear and tear charges when you return your car. If you're a little rough with your vehicles, buying a new car may be the better choice.
Do You Plan to Customize?
Ford dealers offer awesome accessories and ways to personalize your new car. When you own a vehicle, it can even improve your resale value. If you decide to lease a car, you don't get the benefit of added value when you turn in your lease. In fact, there may be added costs to return your car to factory condition. It's best to purchase if you customize your cars.
Is Warranty Coverage a Concern?
Most leases have warranty coverage for most or all of the term. For many lessees, it's wonderful peace of mind. Many financing terms extend longer than new vehicle warranty, and sometimes beyond powertrain warranty. In those situations, owners either are responsible for repairs or need to purchase an extended warranty. If warranty coverage is a concern, you may want to lease a car from the Ford finance center.
Do You Want Equity?
For some car buyers, it's important that their car payments go toward owning their car, also known as building equity. When it comes time to sell or trade it in, the equity helps lower the payments for the next car. Leasing often offers lower payments but you don't build equity in your vehicle.
Are Your Vehicles Well Maintained?
Some car owners are diligent to keep their cars in pristine condition while others aren't as careful. If maintaining your car isn't a strong suit, leasing can be a good option. Financing a car could be right for you if you stay on top of maintenance.
With your Southern California Ford Dealers, you have options. You can either buy or lease a new car and be confident in your choice. Visit today to test drive the model you want and discuss which purchasing option is best for you.
Resources: