Own the Road in a Ford Mustang
At Southern California Ford Dealers, we have a few choice words to describe the Ford Mustang: fast, iconic, and cool. Be the envy of everyone on the road in one of these classic Fords.
The sleek design that everyone knows, the ultra-powerful engine that will take you from zero to sixty before you can blink, and all the hot new technology make the Mustang a car enthusiast's dream.
Design
You will feel like you're moving at the speed of sound in any of the Mustang's ten models. The body has been specifically engineered to maximize aerodynamic efficiency, giving you the ride of your life every time you slide behind the wheel.
For an added dose of fun, take the top down with the EcoBoost and GT Mustang models. Feel the wind in your hair at just the touch of a button, without sacrificing speed or trunk space.
With 18 wheel styles to choose from, a range of stylish color choices, and a wide variety of seating arrangements, the slate of Mustang models is infinitely customizable. You'll have plenty of opportunities to make your ride unique to you.
Inside, you'll find ultimate comfort. Ask one of our team members about the available heated and cooled front seats, or treat yourself to the leather-trimmed seats featured in the EcoBoost Premium and GT Premium models.
Convenience is at your fingertips – literally! The push-button start and Intelligent Access key give you the ability to unlock and start up your Mustang with the fob in your pocket or purse.
There's no doubt about it: the new Mustang has it all.
Performance
We know that engines aren't necessarily one-size-fits-all. Thanks to the Mustang's variety of features to choose from, you'll be able to pick the performance package that best suits your needs.
Whether you're in an EcoBoost or a Shelby GT500, you've got a Mustang engine to get where you're going in a hurry. Inspired by racing in all facets of its design, your Mustang will leave traffic behind with a roar.
Speaking of roar, make sure you ask a team member about the class-exclusive active valve performance exhaust. This feature allows you to decide just how attention-grabbing cranking the engine will be. Settings include Quiet Start for those early morning commutes, Normal, Track, and when you're feeling rowdy, there's Sport.
The five different high-performance engines and suite of optional features put you in the driver's seat of a Mustang tailored specifically to you.
Safety
We want you to cruise the open roads as safely as possible. The new Mustang allows you to do that in style, with all the latest safety innovations.
Pre-Collision Assist with Automatic Emergency Braking. This available feature literally saves lives. It is constantly scanning the road ahead of your Mustang and will alert you when you come too close to the vehicle ahead. It can even apply the brakes for you if you don't respond right away.
Lane Keeping System. Momentary distractions happen to all drivers and sometimes they can cause accidental lane drift. This system will let you know right away if you've edged out of your lane.
Blind Spot Information System (BLIS). In Southern California, we know traffic is a real pain. You can take some of the stress out of your commute with this system, which alerts you to vehicles approaching that pesky blind spot.
Ford Safe and Smart. This available package comes equipped with a set of voice-activated systems including Adaptive Cruise Control and the Touchscreen Navigation system, which you can access with a voice command. Keep your eyes on the road with this terrific safety feature.
These are just some of the ways your new Mustang will keep you protected while you're enjoying the open road. Ask one of our team members about all the available systems the Mustang has to offer.
About Us
If you've been asking yourself if now is the right time to get into a new Mustang, here at Southern California Ford Dealers we say it absolutely is, and we are excited to make that happen for you. Its eye-catching design, high-powered engines, and superior technologies make it one of the most enviable cars on the road.
Southern California Ford Dealers are a group of Ford Dealers throughout the greater SoCal area who are dedicated to making sure you find the right vehicle for your needs. Each location is staffed by experienced and highly knowledgeable team members who will be glad to show you what the new Mustang can do.
Not sure where to find us? No problem. Go online and browse our available inventory, or use our location finder to see your local dealer. It's never been easier to shop for a Mustang, and Southern California Ford Dealers are here to help every step of the way.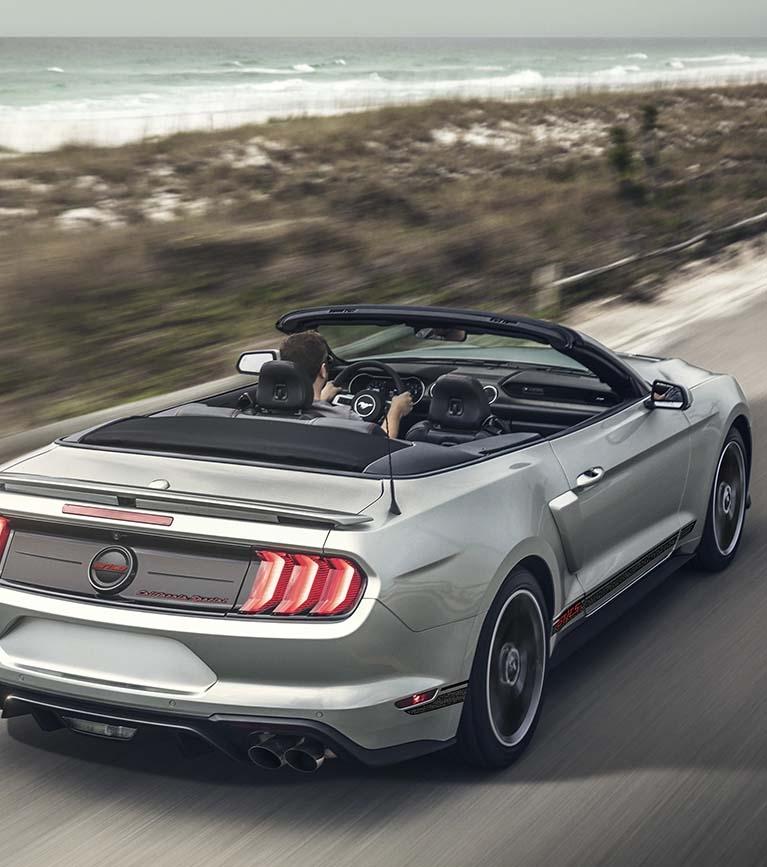 Back to all blogs