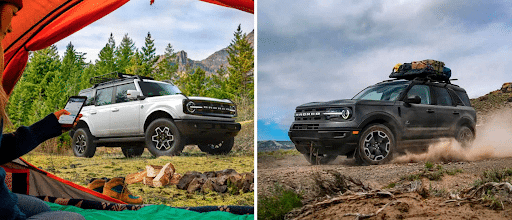 You may remember the old Ford Bronco models. Those SUVs were tough and prepped for anything. They discontinued the line originally in 1996 to roll out their first Expedition models, after the Bronco had been around for 30 years.
Clearly, Ford realized just how missed this sweet ride was when they brought it back to the world in 2021 after a 25-year hiatus. And they came back prepped for off-grid adventures and so much more.
Here, you will find a complete guide and overview of the new Ford Bronco, complete with everything you need to know about your off-grid planning. Check out the details and then come see us at Southern California Ford Dealers to find the ride for you.
Adventurous Exterior Design
The off-grid adventure begins with the vehicle's exterior. Of course, it takes more than good looks to be able to enjoy the ride but that sure is a valuable starting point! This is a small SUV with pickup-like capabilities, and it's not a bad price considering it's brand-new back on the market.

The outside has a stylish, modern frame similar to the popular Land Rover design. Car and Driver ranks the Bronco as the #2 pick against its competitors. You've got all the muscle, the perfect amount of lift, and just the right amount of class for those times you aren't on adventures. Everything is sophisticated but durable, and the design certainly stands out. Some models include removable doors and convertible tops, just like the Broncos of our past. You can dominate both off-road adventures and on-road adventures with ease.
Off-Grid Performance Expectations
When it comes to heading to the trails or any outdoor adventure, you need to know your vehicle can perform, from the body style to the wheels to the engine and every little detail in between. We already checked out the exterior style and know it fits the bill, but where does the Ford Bronco measure up in terms of overall performance? You will be pleasantly surprised with its capabilities. This vehicle delivers. It's more than just looks that keep it steady. What you will find is the Bronco is made with either a four-cylinder or V6, depending on which model you choose. They have four options to pick from. The four-cylinder choices have a turbocharged engine to add just a touch of power to their performance. This performance change improves overall gas mileage and doesn't take away from the power that you need when you're heading off-grid. Most of the options are 10-speed automatic, but Ford does have a 7-speed manual in some models. It's an all-wheel or four-wheel drive design with suspension to the front to help you hit the trails and keep on moving. You can easily handle mud, gravel, sand, and other terrain that you might find on your adventures. It's refined when you are on traditional roads, and powerful and precise when you head off the road as well. The suspension does help keep even your roughest rides comfortable and the large tires take you where you need to go with ease. You also have the ability to tow up to 3500 pounds, giving you some additional capability.
When you head off-grid, the safety of your ride is an essential consideration. You can't exactly head out to ride around on trails and other terrain unless you know your vehicle will keep you safe. As with most modern vehicles, you can enjoy the typical driver-assist features that use technology to keep you safe. Ford models have the 360 safety setup that includes lane keeping assistance, forward collision assistance, and blind spot monitoring. The steering is smooth and lithe and with the lane keeping assistance, you don't have to worry about too much pull out on the trails. The blind spot monitoring and forward collision protection will help you out there, too.
While you're bouncing around on your favorite rough terrain, you need to know that you can be cozy and comfortable inside the vehicle too. This goes for you, your passengers, and any type of cargo you have. The Bronco does come in several models, including hardtops, soft tops, removable doors, and two- or four-door selections. This gives the Jeep Wrangler a good run for its money. You can enjoy the air or be cozy inside with a full roof. This vehicle also has a space on your dash to mount your GoPro or your smartphone so you can record your adventures if you want to. The interior is protected and snazzy with just the right mix of cozy features and durable parts. There is plenty of space for seating on all models, although the four-door choices do have more room for backseat passengers and cargo space. It's not fancy since it's made for off-grid adventures, but the higher-end models do have some fancier upgrades. You still get valuable tech and gadgets as well, with a touch screen on the dashboard, Wi-Fi hotspot capability, and connection to Apple or Android auto play. Some of the upgraded models have navigation and improved speakers.
Ride in Style Even Off-Grid
The Ford Bronco is capable and it looks awesome. The company certainly did a great job reinventing this classic favorite. It provides you the muscle capabilities without losing the grandeur of a nice vehicle.
You can't go wrong looking for this ride, and it certainly delivers style and performance whether you use it for everyday driving or all of your favorite adventures. Head on over to
Southern California Ford Dealers
and let's get you in the Bronco that fits your needs. There are plenty of options to choose from. What are you waiting for? Adventure is out there!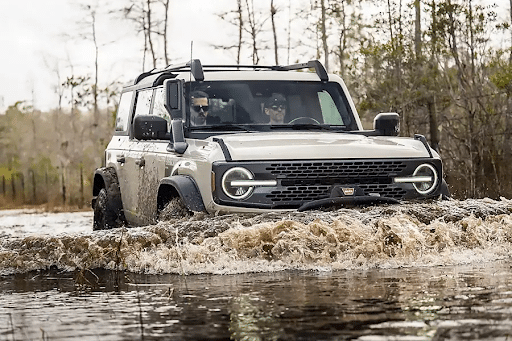 Back to all blogs