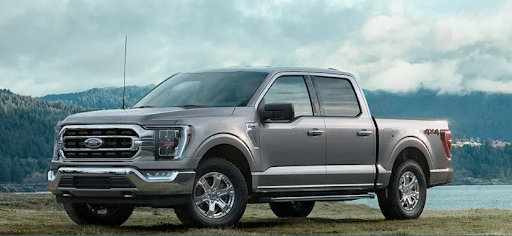 When it comes to a strong, capable vehicle, the Ford F-150 comes out on top. As one of the most popular trucks on the market, the Ford F-150 was built Ford tough. Whether you need it for work, travel, or running errands, the Ford F-150 can easily get you where you need to go. When you're ready to test drive the powerhouse that is the Ford F-150, the team at Southern California Ford Dealers can help.
Here's what we love about the Ford F-150 (and what you will, too):
Durability That Outranks the Competition
The Ford F-150 was built Ford tough and it knows it. This vehicle is made from a strong, military-grade aluminum-alloy body, so you know it's tough as nails. Plus, this material enables the vehicle to be strong without increasing its weight. The fully-boxed frame also has large cross-sections.
The F-150 is also incredibly durable when exposed to the elements. While California might not get the biggest range of weather conditions all year round, that doesn't mean you shouldn't have a truck that can handle different weather conditions if and when the moment calls for it. Fortunately, you're in luck - the Ford F-150 has been tested to handle a wide range of temperatures as low as -40 degrees all the way up to 120 degrees Fahrenheit.
Unmatched Power
No matter the job, the Ford F-150 is up for the challenge. Much of this has to do with this vehicle's impressive seven-engine lineup. These engines include:
2.7L EcoBoost v6 engine, which has 324 horsepower and 400 lb.-ft. of torque.

3.0L Power Stroke Turbo Diesel engine, which has 250 horsepower and 440 lb.-ft. of torque. It has a maximum payload of up to 1,840 pounds.

3.3L TI-VCT V6 engine, which has 290 horsepower and 265 lb.-ft. of torque. It has a Ford port-fuel and direct-injection system.

3.5L EcoBoost V6 engine, which has 400 horsepower and 500 lb.-ft. of torque. It has an available towing rating of up to 14,000 pounds.

3.5L Powerboost Full Hybrid V6 engine, which has 430 horsepower and 570 lb.-ft. of torque. This engine can tow up to 12,700 pounds.

High-Output 3.5L Ecoboost, which has 450 horsepower and 510 lb.-ft. of torque. This engine is only available on the Ford F-150 Raptor model and is great for off-road expeditions.

5.0L TI-VCT V8 engine, which has 400 horsepower and 410 lb.-ft. of torque. It has a maximum payload capacity of 3,325 pounds.
Capability Designed for an Efficient Work Day
Many Ford F-150 owners use their trucks for work. This vehicle features several incredible capability features that make getting work done a piece of cake, like available onboard scales so you can measure your payload weight before you load anything onto the truck's bed that it might not be able to handle.
Drivers utilizing this feature can view their onboard scale status through the FordPass app on their smartphone or through the SYNC 4 screen located inside the cabin. The F-150 also comes with an available Smart Trailer Tow Connector, which lets you know if your indicator lamps need to be replaced or if there are any battery problems.
This capable truck also comes with a CCD (Continuously Controlled Damping) system, which adjusts the truck's shock absorber stiffness. It does this in real time, so the shocks are always adjusted to match the driver's input and road surface.
Features That Increase Productivity
If you use your F-150 for work, you'll get plenty of use out of the truck's available features, such as the interior work surface. The surface makes it possible to use your laptop or sign documents needed to complete a job. This vehicle also has available selectable zone lighting, so feel free to light up sections of your truck or the entire thing if you need to change out a tire or work on a task at night.
F-150 owners can turn on the zone lighting easily through the FordPass app. Drivers can also get software updates about their trucks via the interior SYNC 4.
Enjoy the Road Ahead in a Powerful Ford F-150
With all these features, it's no wonder the Ford F-150 remains one of the most popular vehicles on the market. When you're ready to feel the power of a Ford F-150, visit Southern California Ford Dealers. We can help you locate a Ford dealership today so you can be enjoying the open road tomorrow.
Back to all blogs