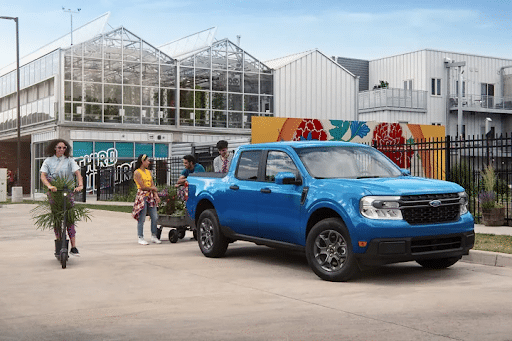 If you're game for anything, the Ford Maverick is game for you. This sleek ride gives you all the best parts of a pickup truck and fulfills so many other needs like space, comfort, efficiency, cargo room, technology, and more. Whether you're looking for a quality vehicle to handle your towing and travels or you just want a daily ride, you can certainly find what you're looking for in the 2022 Ford Maverick. When you're ready to check out one of these trucks in person, we hope you will come see us at
Southern California Ford Dealers
.
If You're Looking for Comfort
Not all of us need a huge pickup truck to take care of our lives and business. In fact, for some of us, driving something so large can be quite uncomfortable and leave you on edge on the road. That is not the case with the Ford Maverick. This is a brand-new experience through Ford and it's well worth a glance. They've taken the best qualities of the midsize Ranger and downsized them just slightly to bring you the Maverick. This model is considered to be a small pickup. Even as a small truck, it's still spacious and comfortable for you and your passengers. You will find yourself perfectly at ease on the road. This truck has already been slotted for a variety of awards and it's clear to see why. If you know much about the Bronco's design, you will find that it and this truck have the same chassis style. You won't be feeling squeezed in or cramped with this vehicle. It's built for your comfort every step of the way.
Looking for Speed or Power?
If you're looking to kick up your drive a notch with a bit of speed and power, the Maverick can help. Obviously, as a small pickup, it won't provide as much power or towing capability as pickups like the F-250, but it's still capable of delivering functional power and capability. This truck is all about the hybrid possibility. That's Ford's grand design behind the truck, and it's what really makes the vehicle stand out as far as efficiency is concerned. And it doesn't hold back on decent speed or power, either. You can choose to avoid the hybrid option if you like and if you do, you get a four-cylinder turbocharged engine. Both are pretty awesome options. The hybrid models have four-cylinder engines with electric motor assistance. With the hybrid models, you get front-wheel drive, and the non-hybrid is all-wheel drive. Even with the hybrid style and lighter engine, you have capacity and a good suspension to accommodate using this truck for work and fun. Towing capacity can handle up to 2,000 pounds, with a payload capacity of 1,500 pounds. You can also upgrade to a specialized towing package that increases your abilities to 4,000 towing pounds. Finally, let's talk about fuel economy. With the hybrid, you're looking at 42 MPG in the city and 33 on the highway. With the non-hybrid models, you will see more like 22 city and 29 MPG highway. All of these are reasonable fuel efficiency numbers for a pickup truck.
When you're looking for the latest and greatest technology features, you won't be disappointed with the Ford Maverick. Technology contributes to what we know as infotainment, as well as specific safety features and your ability to connect on the road. You can do all these things with ease. Not only do you get Ford's Co-Pilot360 system for the best in safety, but you also get to sign up with Sync and FordPass for all of the connectivity options and the ability to remote start your Maverick from your phone. In the Maverick, the best technology includes an 8-inch touchscreen for all of your connectivity needs. Some models even have navigation. You also have the ability to use Android or Apple car play systems. Every single model has its own Wi-Fi hotspot. Some models will give you a smartphone charging station, which is always a nice addition. Now let's talk about safety in technology. These are some of the big things that are included in Ford's Co-Pilot360:
Automatic braking

Forward collision warnings

Lane keeping assistance

Lane departure warnings

Adaptive cruise control

Automatic high beams
All of these things are integrated into the technology of the vehicle to help you stay safe no matter where you are on the road. This vehicle is new so there
aren't extensive crash test results yet from the NHTSA
.
Finally, if you're looking for good warranty coverage on a brand-new pickup truck model, Ford has you covered. Their warranty is in line with their other models and similar to many other dealers. This includes a 3-year or 36,000-mile limited warranty, as well as a 5-year and 60,000-mile powertrain warranty. In the hybrid model, the hybrid components are covered for 8 years or 100,000 miles. You can purchase additional maintenance plans from Ford.
This is What You're Looking For
If any of this sounds like what you need or have been searching for, the Ford Maverick is the solution for you. This small truck has so much to offer and while it is defined as small, it's still plenty spacious for a great ride. Come on over to
Southern California Ford Dealers
to see one in person!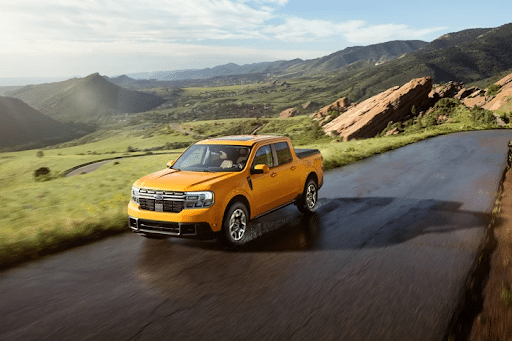 Back to all blogs