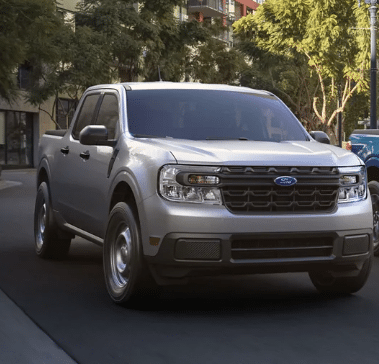 When you're in the market for a new pickup truck, you want to make sure it's going to deliver on what you need. Whether you're looking for something to help you move or plan to use it for work, the all-new 2022 Ford Maverick may just be the trailblazing vehicle for you.
Here's everything you need to know about this unique pickup truck.
A Hybrid Engine Makes the Ford Maverick the First of Its Kind
The first thing you have to know about the Ford Maverick is that it has made history for being the first standard full-hybrid pickup truck. Thanks to the 2.5L full hybrid engine and continuously variable transmission, drivers will enjoy smooth acceleration and seamless shifting during their drive.
The Maverick also features an available 2.0L EcoBoost engine with 250 horsepower and 277 lb-ft of torque. Plus, with the available 4K Tow Package, you can easily haul loads weighing up to 4,000 pounds. Even without this package, the Ford Maverick can still tow up to 2,000 pounds, making it the ideal vehicle to help out on construction sites, moving out of state, or bringing along a small boat for a day out on the water.
FordPass Technology and Built-In Convenience
With FordPass technology, you can enjoy convenience right at your fingertips. FordPass can be directly accessed right from your smartphone. It allows drivers to:
Schedule vehicle maintenance

Obtain reports about your vehicle's health, including tire pressure, fuel levels, and reminders to schedule an oil change

Lock and unlock their vehicle, as well as remote start it while outside

Get in touch with a FordGuide right from the app, so if you have questions about how to use it or how to move past a system error, there's a friendly customer service rep available to help

Wi-Fi connectivity for up to 10 devices

24/7 Roadside Assistance
Road Safety Features
The Ford Maverick also comes with several safety features designed to make the road ahead more comfortable. These features include:
A Rear View Camera: With the rear view camera, you will always get a better idea of what's behind you as you're backing out. As long as you keep the camera free of dirt, snow, and other types of debris, you'll get a crystal-clear image.

Pre-Collision Assist with Emergency Braking: If the system detects another vehicle or pedestrian in front of you and you don't have enough time to stop, the system will automatically deploy the brakes to try and avoid the collision.

Automatic High-Beam Headlamps: These headlamps will adjust to poor lighting conditions and turn off automatically if they sense another vehicle is approaching.

Available Blind Spot Monitoring with Cross-Traffic Alert: Whether you're backing out of a parking spot or changing lanes on the highway, this system will send an alert to warn you if another vehicle is in your blind spot or behind you.

Adaptive Cruise Control with Stop-and-Go Lane Centering: Not only can you set your cruising speed, but this system also allows you to take it to the next level and adjust to the traffic patterns. So even if another vehicle ahead of you slows down or speeds up, it'll adjust on your behalf.

Available Lane-Keeping System: If you start to drift out of your lane, the system will set off an alert to correct your mistake. If you keep drifting, a little coffee cup icon will appear, reminding you it's time to take a break.
While these safety features are awesome, it's important to remember that the Ford Maverick was built tough, the way only a true Ford vehicle can be. It has been rigorously tested to withstand extreme temperatures from 40 below to 120 degrees Fahrenheit. So, if there's ever an emergency and you have to pull over, you can trust that your vehicle can withstand whatever temperatures are thrown at it.
Find What You're Looking For in a Ford Maverick
Whether you're looking for luxury, capability, or top-rated performance, the Maverick ranks high in every category. When you're ready to take this pickup truck out for a drive, the team at Southern California Ford Dealers can help you locate your local Ford dealer.
It's hard not to fall in love with everything about the Ford Maverick. Contact Southern California Ford Dealers today to start enjoying everything the Ford Maverick has to offer. You'll be glad you did.
Back to all blogs