Do I need a new cabin air filter?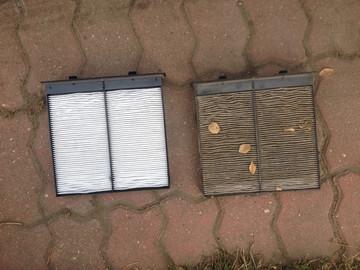 Did you know there is more than one air filter in your car? Drivers are usually familiar with the fact they need to change out their engine air filters to keep their engines running properly, but they tend to neglect their cabin air filters. All air that enters your cabin through the ventilation system is sent through a cabin air filter. This keeps small debris and airborne particles out of your cabin and allows you and your passengers to breathe fresher and cleaner air. Knowing when to change this filter will keep you and your family healthier all year long.
Changing out your cabin air filter may not cross your mind often, but your local Southern California Ford Dealers are here to explain why it should be important to you. If you value your health, air quality, and comfort, then you will want to keep the air coming into your car's cabin as clean as possible. Exhaust fumes, allergens, and other air borne particles are prevalent on roadways where vehicle's consistently toss up dirt and emit harmful hydrocarbons. The quality and condition of your cabin air filter will determine how much of those pollutants and irritants make their way into you, and your family's bodies.
How to Know When You Need a New Cabin Air Filter
Replacing your cabin air filter is part of normal car care and car maintenance. Typically, these filters should be replaced once a year. You may need to change them if they manage to get wet or heavily contaminated. If you live in a dusty and dirty area, you are going to need to replace them more often. This will not only keep you breathing easier, but it will allow the ventilation system to work as it was designed.
Choosing the Right Cabin Air Filter
You will have several options of cabin air filters when you look into purchasing a new one. Your vehicle will require a recommended size and shape of air filter, and you will need to pick the right brand. Filters differ in how they are made and what they are made from. The smaller the air passage holes are in the filter, the more debris and particulates it will pick up. This also means that it will need to be changed more frequently. You can also opt for specialized cabin air filters that help reduce the amount of allergens that make their way into your vehicle. Anyone who suffers from long-term allergies may want to consider these filter options for improved quality of health.
Your local Ford service center would like to help you stay on top of these little tasks that can drastically improve your driving experience. Don't settle for sub-par air quality when you don't have to. Contact your Southern California Ford Dealers for more help on getting the right cabin air filter replacement and having it installed this season. While we specialize in Ford vehicles, we are happy to help with services on any make or model.
References:
None