What We Know About the All-Electric Ford Mustang-Inspired SUV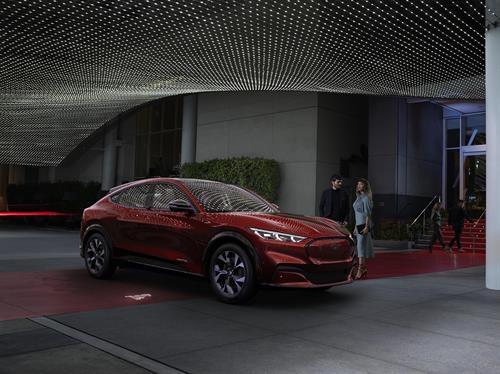 At the back end of 2018, if someone had asked people what electric vehicles Ford would be coming up with inside the next twelve months, it's unlikely too many would have been predicting an all-electric Ford Mustang-inspired SUV. But fast-forward 12 months and that's exactly what Ford is launching in the shape of the 2020 Mustang Mach-E, which is every inch a Ford Mustang-inspired electric SUV. So, what do we know about this Mustang-inspired electric crossover?
Styling
When the first official images of the Mach-E were released by Ford, it's hard to say just how many people would have immediately associated it with the Mustang if it wasn't for the name and the fact Ford had trailed the fact it was "Mustang-inspired." Of course, when armed with that knowledge, it's easy to see the Mustang styling cues.
The main Mustang giveaway is the triple-slit tail light arrangement at the back, and the front headlights and fascia also have more than a hint of Mustang. However, it would also be easy to say the front fascia was as much Ford Fusion as it is Ford Mustang.
Either way, this is seriously an attractive and sporty new SUV with a side profile that bears more than a passing resemblance to a certain German luxury SUV coupe, which if you remember, wasn't taken too seriously when it was launched until it became a big hit with buyers. And all that is before you get to the fact this is also an all-electric model with no hint of gasoline power to be found under the hood.
Motor and performance
It's all well and good for a new vehicle to look the part, but with Ford trumpeting the Mustang inspiration of the Mach-E, it has to perform as well as looking the part. That shouldn't be a problem now that we have some details of what to expect from the new Ford. There's going to be a Mach-E GT model, which Ford has revealed will produce an estimated 459 horsepower and 612 lb.-ft. of torque, which will get the Mach-E GT from 0 to 60 mph in around 3.5 seconds.
Standard versions of the Mach-E will develop something like 332 horsepower and 417 lb.-ft. of torque, which would be impressive enough even if they were powered by gas V-6 engines.
Models
When it finally arrives late next year, the new Ford electric SUV will be available in both standard and extended range versions, and there will also be two special performance versions; the GT and the GT Performance Edition.
The non-GT variants will be available with rear or all-wheel-drive, with standard versions offering a range on a full charge of at least 300 miles, while the extended-range AWD version will target at least 332 miles.*
Hau Thai-Tang, who's Ford's chief product development and purchasing officer, says of the new model, "The Mustang Mach-E wholeheartedly rejects the notion that electric vehicles are only good at reducing gas consumption. People want a car that's thrilling to drive, that looks gorgeous and that can easily adapt to their lifestyle – and the Mustang Mach-E delivers all of this in unmatched style."
And if you think this is a concept that will never see the light of day, then think again. The Ford Mach-E will start coming off the production line in late 2020, and buyers can make reservations right now for deliveries starting in spring 2021.
For more details, to be kept up to date, and to be first in line for a test drive when the Mach-E finally arrives, get in touch with us right now at Southern California Ford Dealers.
*Targeted Range, select models. Based on a full charge when configured with optional extended range battery and rear wheel drive. Actual range varies with conditions, such as external elements, driving behaviors, vehicle maintenance, and lithium-ion battery age. Final EPA-estimated ratings available in the 2020 calendar year.
Source: