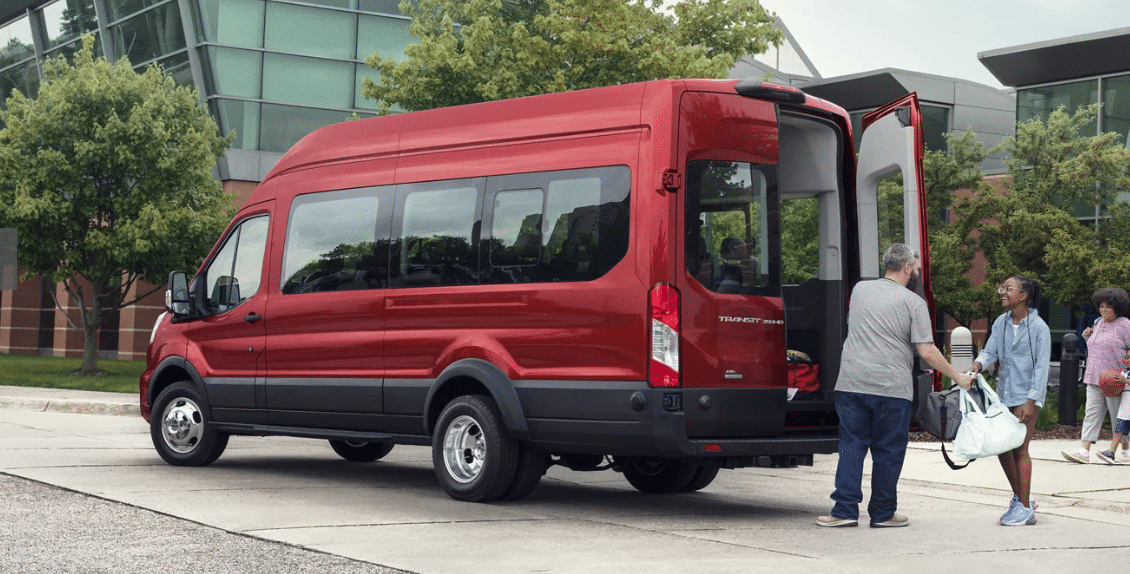 The
Ford Transit
is a remarkable vehicle designed to meet your family's growing needs. With its spacious interior, innovative technology, and impressive performance, it is the perfect solution for busy families on the go. Southern California Ford Dealers are excited to help you get behind the wheel of a brand-new Ford Transit, and getting pre-approved is the first step. Discover the many benefits of the Ford Transit and learn how easy it is to get pre-approved with
Southern California Ford Dealers
today. Don't wait any longer—
visit
Southern California Ford Dealers to get started on your journey toward owning a new Ford Transit!
Performance Perfection: Discover the Ford Transit's Impressive Capabilities
The Ford Transit is meticulously engineered to manage your family's escapades effortlessly, courtesy of its robust engine and high-performance features. You can select from an array of engines, including a fuel-efficient gasoline variant or an optional turbocharged diesel engine that delivers unparalleled power and torque. Regardless of your engine preference, you can expect a seamless and responsive driving experience that caters to all your needs. Moreover, the Ford Transit showcases cutting-edge suspension and handling technologies that guarantee a comfortable and well-regulated ride for both the driver and passengers. Its advanced suspension system adapts to various road conditions, allowing for a smooth drive even on uneven terrain. Additionally, the Transit's precise steering and responsive handling capabilities ensure you remain in control, providing confidence and assurance behind the wheel. The Ford Transit's remarkable performance is further enhanced by its intelligent drivetrain options, which include rear-wheel drive and all-wheel drive configurations. The RWD setup offers improved towing capacity and payload, while the available AWD system provides optimal traction and stability in diverse weather conditions and challenging road surfaces. This versatility ensures that the Ford Transit is well-equipped to tackle any adventure your family undertakes.
Built to Impress: Ford Transit's Rugged and Eye-catching Exterior
Constructed to withstand the demands of your hectic lifestyle, the Ford Transit sports a robust and resilient exterior. Its reinforced body structure, sturdy protective molding, and cutting-edge lighting system all contribute to the Transit's ability to tackle a wide range of challenges. This rugged design ensures that the Ford Transit is prepared to handle daily life's rigors, whether navigating bustling city streets or traversing rough off-road terrain. The Ford Transit's exterior is also thoughtfully designed with practicality and convenience. Generous cargo space, easily accessible sliding side doors, and a user-friendly rear liftgate facilitate hassle-free loading and unloading of passengers and their belongings. This attention to detail makes the Transit an ideal choice for busy families, professionals, or anyone who requires a versatile and accommodating vehicle. Furthermore, the Ford Transit offers an impressive selection of available wheelbases and roof heights, allowing you to customize the vehicle to suit your needs. Whether you require a compact model for urban maneuverability or a more spacious variant for extensive cargo or passenger capacity, a Ford Transit configuration is tailored to your preferences. Optional exterior features, such as roof racks, running boards, and towing packages, can also be added to further enhance the Transit's versatility and adaptability.
A Home Away from Home: The Comfortable and Inviting Ford Transit Interior
Upon entering the Ford Transit, you'll be greeted by a generously-sized, inviting cabin thoughtfully crafted to accommodate your family's requirements. With a seating capacity for up to 15 passengers, the Transit ensures ample space for your loved ones and their belongings. This spaciousness makes the Ford Transit an ideal choice for family road trips, group outings, or running errands around town. The Transit's adaptable seating configurations further enhance its versatility, allowing for multiple rows of seats that can be easily adjusted to suit your family's unique needs. Whether you require more cargo space, additional legroom, or a combination of these options, the Ford Transit's flexible interior design enables effortless customization to fit various preferences. Inside the cabin, you'll find premium materials and soft-touch surfaces that create a high-quality, cozy ambiance for all occupants. The seats are ergonomically designed for optimum support and comfort, ensuring a pleasant journey for everyone on board.
Ford Transit: Protecting Your Most Precious Cargo
Safety is paramount for Ford, and the Transit exemplifies this commitment to protecting drivers and passengers. This exceptional vehicle boasts cutting-edge safety features that work together to ensure a secure and confident driving experience. Standard safety equipment includes Pre-Collision Assist with Automatic Emergency Braking, which monitors the road ahead and can apply the brakes automatically if a potential collision is detected, helping to prevent or mitigate the impact. The Lane-Keeping System is another valuable standard feature that helps you stay centered in your lane by providing subtle steering assistance and alerts when unintentional drifting is detected. The Ford Transit offers optional safety features that further augment its safety credentials. Adaptive Cruise Control, for instance, automatically adjusts your cruising speed to maintain a safe distance from the vehicle ahead, allowing you to focus on steering and enjoy a more relaxed drive. The Blind Spot Information System (BLIS) with Cross-Traffic Alert helps you change lanes with confidence by warning you of vehicles in your blind spots and alerting you to any approaching traffic when reversing out of a parking space.
Get Pre-Approved for a New Ford Transit Today at Your Local Southern California Ford Dealers
Seize the chance to own the quintessential family vehicle—the Ford Transit. Discover its roomy interior, exceptional performance, and cutting-edge safety features by visiting Southern California Ford Dealers today. By choosing the Ford Transit, you invest in a reliable and adaptable vehicle and become part of the Ford family, gaining access to exceptional customer service and support from
Southern California Ford Dealers
. Our knowledgeable staff will guide you through the entire process, from pre-approval to selecting the ideal Ford Transit model. Don't let this opportunity pass you by. Take the first step towards owning the ultimate family vehicle by
visiting
Southern California Ford Dealers today and experience firsthand the many benefits the Ford Transit offers!
Back to all blogs