Ford's Military Appreciation Program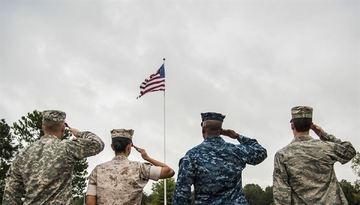 Our nations honorable service members go above and beyond to protect our country. Ford would like to take the opportunity to offer a special thanks to military members across the nation and oversees. These Ford incentives are for all types of military members past and present. The discounts don't stop there, and your family may be able to take advantage of these Ford specials as well. Learn more about how to take advantage of these savings and more with the help of your local Ford Dealership.
Service members put their lives on the line for us every day. Ford's Military Appreciation program is designed to help these service members get into the vehicle they want and deserve. These exclusive military discounts offer a range of special Ford discount plans unique to each individual service member.
Who's Eligible
The military appreciation bonus offer is available to active, retired, and veteran service members. Active military personnel enrolled in the Army, Navy, Air Force, Marines, Coast Guard, National Guard, Reservists serving on Active Duty, and members of the Delayed Entry/Enlistment Program (DEP) are all eligible to receive various discounts. If you are a veteran, you must be within 2 years of separation to qualify for the veteran specific discount. Retirees are also able to take part in the discounts, as are spouses, surviving spouses, and other household members. Eligible family members must be US residents, but do not necessarily need to reside in the United States presently.
How it Works
There a few steps needed on your part to qualify for your discounts. In order to take advantage of the Ford Military Discount, you must first register for the program. This can be done online. Since every service member is a little different, the discounts will also vary slightly. The registration process will require you to ID yourself and verify your military service. You will also be prompted to give more information of models that you are interested in. You can then use that discount at any Ford dealership nationwide.
To register, go online with ID.me and complete the short verification survey. This will allow Ford to confirm your military service status, so you can get the highest discounts possible. Your local Ford dealership may also be able to help you with this registration process.
Restrictions and Other Programs
There are some models that the discounts do not cover, so you may want to have a few models in mind that you may be interested in. These discounts are also typically for newer models and are usually not able to be applied to used models. There are also additional programs for disabled veterans and service members who may require special equipment.
First responders are also offered special discounts for protecting us on a more local level. This includes officers, fire personnel, paramedics, and emergency dispatchers. For more information about these discounts, look into the First Responders Appreciation Program.
For additional information or for assistance in seeking your next vehicle purchase, contact us here at SoCalFordDealers.
References:
https://www.fordsalutesthosewhoserve.com/