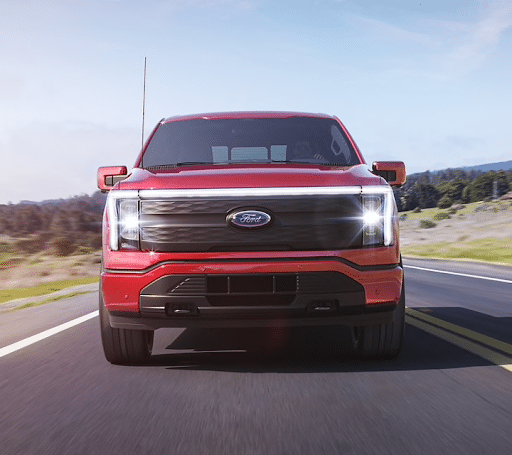 Our Southern California Ford Dealers want you to know the way to the future is with Ford! You've seen the commercials. You've heard about it. The hype is real. The all-new, all-electric 2022 F-150 Lightning truck comes with an array of connected, intelligent features that help keep your vehicle up-to-date all the time.
100% electric and packed with advanced technologies, comfortable, convenient, and built Ford tough - the Ford Lightning is the future. Get on board and see what Ford can do!
Electric & Tech
Feel good about Ford! Our F-150 Lightning is more than just an electric truck. It's expected to be certified as a zero-tailpipe emissions vehicle. That's a big deal. With amenities like Intelligent Backup Power, Enhanced Pro Power Onboard, Software Updates, Phone as a Key, and Ford BlueCruise at your fingertips, you've got more technological advances than you could've bargained for.
Intelligent Backup Power
When a storm is coming, you can rest assured you'll have the power you need during severe weather and other unpredictable events. With a fully charged battery, the all-electric Ford F-150 Lightning provides full-home power for up to three days. If you're rationing power, you can get up to ten days' charge. That's power and confidence you can't get anywhere else!
Enhanced Pro Power Onboard
Whether you need it for work or play, the Ford F-150 Lightning offers an available 9.6kW of max power provided through 11 outlets. Accessibility is not an issue with four 120V outlets in the front trunk, two in the cab, and four in the bed. You also have a 240V outlet for the larger tasks on your to-do list.
Software Updates
Over-the-air software updates ensure that you've got the latest and greatest in technology updates without skipping a beat. The latest upgrades enhance capability and convenience to help you work smarter and with more efficiency.
Phone as a Key
Leave the keyfob in your junk drawer. Access and start your F-150 Lightning directly from your smartphone. Connect up to four profiles, so everyone in the family has this convenience at their fingertips.
Power My Trip
FordPass Power My Trip allows you to plan your trip directly from the SYNC touchscreen through your FordPass app or by voice commands. The system considers your charge level and plots a route using the convenient charging stations located throughout. The system also provides access to favorite routes, charge stations, and more.
Ford BlueCruise
The future is now! A driver-facing camera and radar technologies allow for hands-free driving on sections of divided highways called Hands-free Blue Zones that make up more than 130,000 miles of North American roads.
This is a small sampling of the advances you'll find in the Ford F-150 Lightning. This truck is more than just a truck. It's more than just electric. It's just more!
Capabilities
No matter where you go, Ford prepares you for what lies ahead. We test all our trucks in tough, real-world conditions so there are no surprises. The Lightning is no exception. When you get behind the wheel, you can count on your truck being up for any challenge that stands in your way!
Stay ready for off-road adventures! The Ford F-150 Lightning features two motors that power all four wheels for legendary 4x4 performance. You're protected by metal skid plates, underbody protection, and an advanced lithium-ion battery pack that's protected by a shield means you have the protections in place to go where you want to go.
Stay in control of the road ahead with Selectable Drive Modes that power you through challenging driving conditions and difficult terrain. Normal, Sport, Tow/Haul, or Off-Road choices customize your capabilities accordingly.
You've come to rely on Ford, and the Ford F-150 Lightning is no exception. You've got the muscle you need with a maximum available towing of 10,000 pounds. Load up and head out. We've got you covered.
A 2000-pound maximum payload means you can throw the bricks, feed sacks, and camping gear in the back and head wherever the journey takes you!
About Us
Southern California Ford Dealers are a group of dealerships united in their opinion that your car-buying experience should be as stress-free as possible. Our website provides a look at hundreds of new and used vehicle options that you can peruse from the comfort of home.
When you find the vehicle you'd like to see in person, you can find a dealership close to home that will provide professionally trained and friendly staff interested in listening to your wants and needs to help you find a Ford that meets your standards!
We feel good about the all-new electric Ford F-150 Lightning and know you will too! Contact us today to hear about all your options!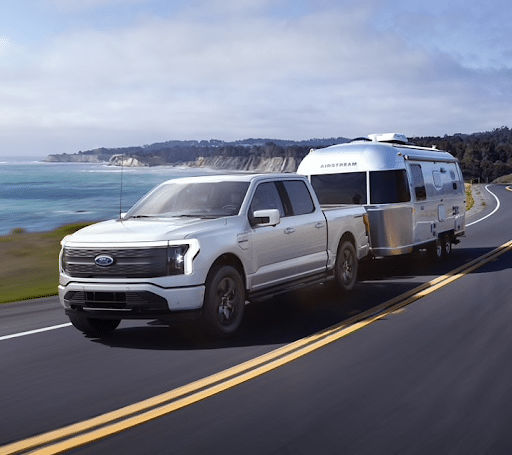 Back to all blogs