Every vehicle should have top-notch safety features. As technology continues to improve, newer vehicles should be increasingly safer. Each year, different brands come out with updated technology and safety features. The 2022 Ford Explorer is no exception.
Before you head over to the top Southern California Ford Dealers to choose your new Ford Explorer, familiarize yourself with some of the most popular safety features and upgrades that you might see.
The 2022 Ford Explorer received a full five stars for its safety rating. This covers crash tests and rollover tests. In that category, the Explorer received a four-star rating.
Here are some of the safety features that can help you feel confident behind the wheel.
BLIS - Blind Spot Information System
First up is BLIS. This is the blind spot information system that Ford uses on most of their new vehicles, including trucks and SUVs. The system is designed to help cover your potential blind spots while you are driving and alert you if a vehicle is in your blind spot.
The good news is this doesn't mean that the vehicle is constantly beeping and going off when someone enters your blind spot. It's more like a light pops up so if you're checking your mirrors, you see there is something over there.
The information system works by lighting up a simple signal on your side mirrors when a vehicle is within the range that is typically considered to be a blind spot. Your backup alerts actually come from the same system, but there is more to that particular process and warning system. Ultimately, you have more confidence that you are truly in the clear, even when it might be hard to see.
Automatic Emergency Braking
Emergencies happen and when a collision is imminent, we can feel helpless and panicked. One of the safety features of the 2022 Ford Explorer is an automatic emergency braking system.
Your vehicle has tons of sensors and monitors all around it. When you are in danger of collision, these sensors will alert you of the potential collision - but they go one step beyond that.
When the system senses an imminent collision, AEB will activate the brakes automatically. The goal is not for the system to slam on your brakes, but for it to slow your vehicle and attempt to stop the vehicle before a collision.
The system is trained to recognize specific threats and markers that are indicative of a collision. This isn't really a new system, but it has become more readily available and more popular in vehicles in recent years. In fact, in 2022, this system is in the majority of new vehicles marketed.
Do you struggle to stay in your own lane? We're always in a hurry and it's easy to get distracted. And then if you drive when you are tired, it can challenge your skills as well.
What if your car had a system that alerted you when you crossed the lane lines? Your 2022 Ford Explorer will definitely let you know! Ford uses a lane-keeping aid that will assist you with staying in the lines.
That distraction doesn't have to lead to an accident. The aid uses hidden cameras on your vehicle to monitor the center line and the outside line. When you start to drift across one line without using a signal, the vehicle will alert you in some way.
This aid does come in different varieties. One version will try to steer you back into your lane. Another version warns you by vibrating your steering wheel. And finally, the third version will give you a warning and alert you on the message center. It might even tell you that it's time for you to take a rest.
You've likely seen the rear view camera. These are fairly standard now for just about any vehicle. However, it's an awesome safety feature and it continues to improve a little bit each year.
The 2022 Ford Explorer makes backing up a breeze. The camera has a good span so you can be warned about anything directly behind you but also approaching you. Anytime that you are in reverse, the camera automatically activates.
You see a full panoramic view, and the display has lines on it that you can use for backing into a parking space or parallel parking. You get the view and the guided path of lines.
Finally, Ford Co-Pilot 360 is incredibly helpful. Co-Pilot is actually a suite of safety tools. All of the things we've mentioned here are part of that suite - but there is more.
The suite includes collision assist, lane-keeping, BLIS, rear view campers, and auto high beams. There is also the Ford Co-Pilot Assist+ that has even more integrated into it.
The Assist+ model includes cruise control that automatically adapts to traffic around you. It also has stop and go lane centering so your speed will adjust and slow down when needed.
The other included feature is evasive steering assist, which is designed to help steer you when something seems to be going wrong or you need to move out of harm's way.
Find Your 2022 Ford Explorer
When you are ready to find your new 2022 Ford Explorer, get in contact with Southern California Ford Dealers. They can help you navigate finding the car that you like best and fully understand the systems that are available in each Ford Explorer model.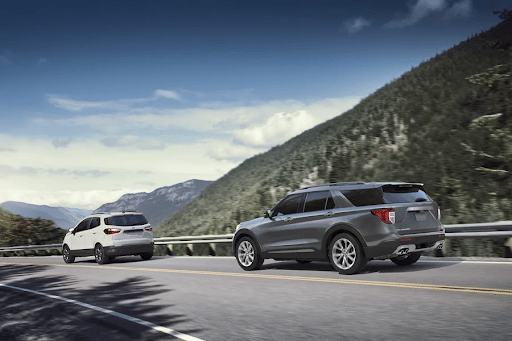 Back to all blogs