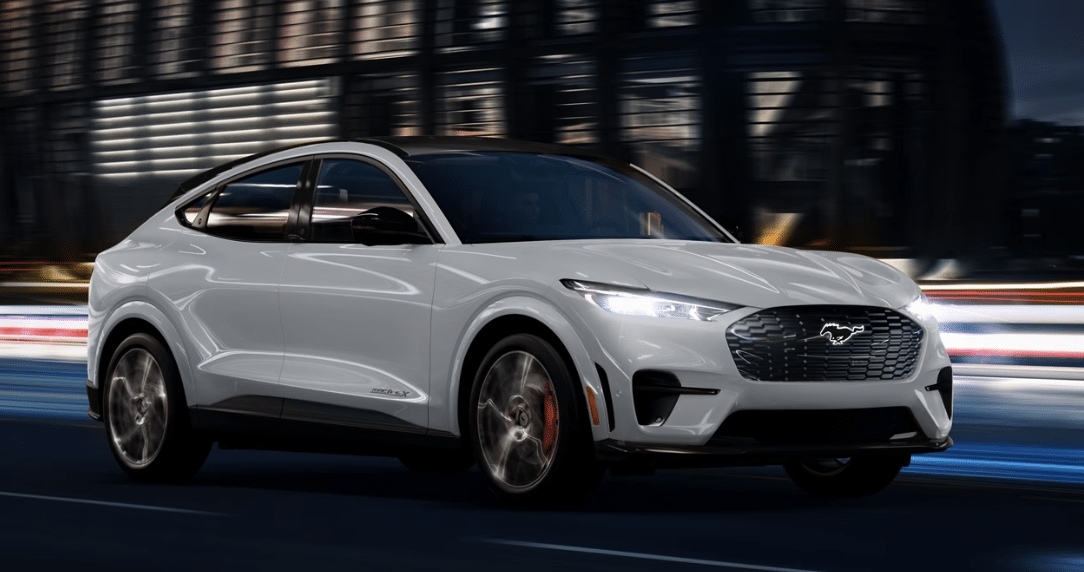 In the rapidly changing landscape of the automotive industry, the
Ford Mustang Mach-E
stands as a beacon of progress, embodying the spirit of innovation, reliability, and the thrilling power that the iconic Ford brand has personified for over a century. Further cementing its commitment to a sustainable future, Ford recently inked a landmark deal with Tesla. Starting in Spring 2024, Ford EV owners will gain unprecedented access to Tesla's expansive network of over 12,000 Supercharger stations across the U.S. and Canada.
Visit your local Southern California Ford Dealer
to test drive a Ford Mustang Mach-E today.
Electrifying Performance: Unveiling the Raw Power of the Ford Mustang Mach-E
The Ford Mustang Mach-E embodies electrified power, capable of serving up a thrilling ride that harkens back to its Mustang lineage. The standard model offers a robust output of up to 266 horsepower, while the extended-range variant delivers up to 346. These numbers speak to the Mach-E's ability to execute rapid acceleration, showcasing the electric vehicle's potential to provide high performance in an eco-friendly package. Moreover, depending on the model, the Mach-E can generate torque output ranging from 317 lb-ft to an impressive 428 lb-ft, delivering a smooth and responsive ride catering to both daily commutes and long drives. Regarding handling and ride comfort, the Mustang Mach-E doesn't disappoint. Its electric powertrain, combined with its low center of gravity, results in excellent stability and precision on the road. The all-wheel-drive variants provide exceptional traction and control, even in challenging driving conditions. For an even more engaging driving experience, the Mach-E lets you switch between modes such as "Whisper," "Engage," and "Unbridled," each varying in steering control, ambient lighting, and sound. The Mustang Mach-E's impressive range further bolsters its performance credentials. With up to 300 miles of range on the extended range model, it eliminates the range anxiety often associated with electric vehicles.
Iconic Elegance Meets Modern Sophistication: The Alluring Exterior of the Ford Mustang Mach-E
The exterior design of the Ford Mustang Mach-E is an exceptional blend of classic allure and future-forward aesthetics. At first glance, it's unmistakably a Mustang. The iconic shark-nose facade, sleek silhouette, and muscular curves speak to its heritage, but with a decidedly modern twist. This electric SUV beautifully adapts the Mustang's legendary sports-car style to a more spacious and practical form without compromising the aggressive allure that has long been synonymous with the name. Instead of a traditional grille, it features a smoothed-out front, an adaptation necessary for its electric design, framed by dynamic LED headlights. The elongated hood extends into the signature Mustang 'pony' emblem, seamlessly integrating the past and the future. Moving to the side, the fastback design introduces an aerodynamic edge, while the pronounced wheel arches add a sporty, robust element to its profile. It's an athletic stance that screams performance and capability.
Masterful Craftsmanship Meets Unparalleled Comfort: Step into the Refined Interior of the Ford Mustang Mach-E
Step inside the Ford Mustang Mach-E, and you'll be enveloped in a sanctuary of comfort and innovation. The interior design of the Mach-E is a seamless blend of luxury, spaciousness, and advanced technology, carefully curated to deliver an exceptional driving experience. Upon entering, you'll immediately notice the minimalist high-tech dashboard. Dominating the space is a large 15.5-inch touchscreen, which serves as the control center for the Mach-E's infotainment and vehicle settings. The intuitive and user-friendly interface offers easy access to navigation, entertainment, and climate control features. A second, smaller digital display sits right behind the steering wheel, providing essential driving information in the driver's line of sight. The Mach-E's interior isn't just about technological finesse, comfort, and space. The cabin is adorned with premium materials from plush seating to soft-touch surfaces, creating a luxurious ambiance. Seats are designed for comfort during long drives, and the rear provides ample legroom for passengers. With its panoramic glass roof, the Mach-E offers a sense of openness, making the cabin airy and spacious.
Intelligent Safety at Its Best: Embracing a Secure Journey with the Mustang Mach-E's Advanced Safety Features
While the Ford Mustang Mach-E delivers an exhilarating driving experience, its focus on safety is equally impressive. Ford has integrated a comprehensive array of safety features into the Mach-E, ensuring peace of mind on every journey. A cornerstone of these safety measures is Ford's Co-Pilot360, a suite of advanced safety technologies designed to protect you and your passengers. Ford's Co-Pilot360 includes a Blind Spot Information System (BLIS) with Cross-Traffic Alert, offering drivers greater awareness of their surroundings. This system warns of vehicles that may have entered your blind spot, making lane changes safer. Pre-Collision Assist with Automatic Emergency Braking is another vital feature that can detect potential collisions with vehicles or pedestrians, providing alerts and, if necessary, automatically applying brakes to prevent or reduce the severity of an accident. Ford equips the Mach-E with additional advanced features to enhance safety and convenience. Adaptive Cruise Control maintains a safe distance from the car ahead by adjusting speed automatically, making long drives and stop-and-go traffic more manageable. Evasive Steering Assist helps drivers steer around stopped or slower vehicles to avoid collisions. Finally, Active Park Assist 2.0 takes the stress out of parking by automatically handling steering, shifting, braking, and acceleration for smooth parallel and perpendicular parking.
Experience the Mustang Mach-E with Southern California Ford Dealers
Southern California Ford Dealers
invite you to experience the future firsthand.
Visit our dealerships
and take the Mustang Mach-E for a spin. Discover its electrifying power, marvel at its innovation, and understand why it is the vehicle driving the future. Our helpful and friendly sales staff is ready to guide you through our wide selection of vehicles. Whether it's our
Finance Center
helping you get the best value for your purchase, or our state-of-the-art
Service Center
ensuring that your car stays in peak condition, we're dedicated to providing a seamless car ownership experience.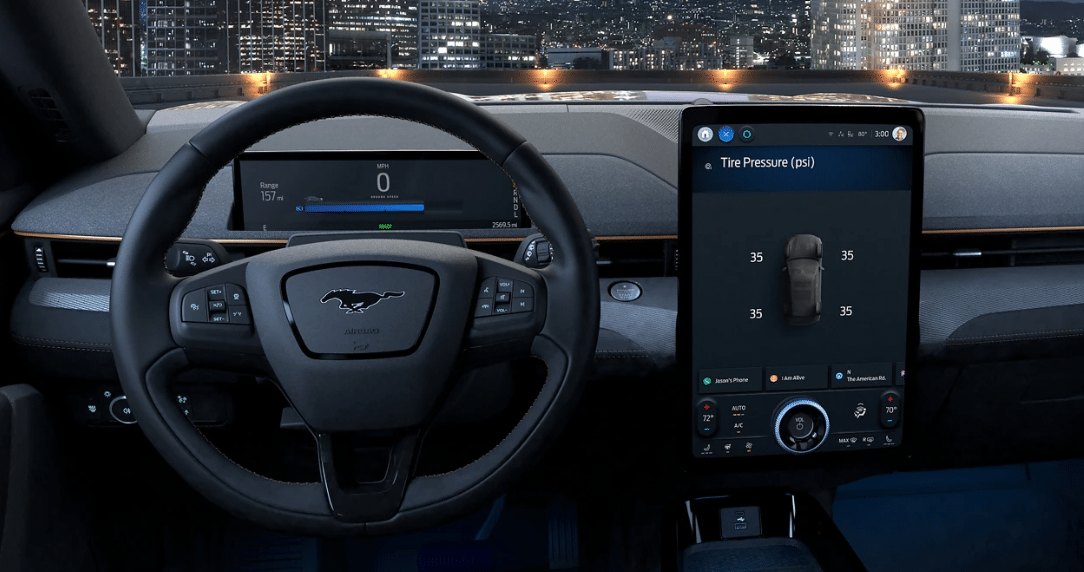 Back to all blogs