Best Spring Road Trips in SoCal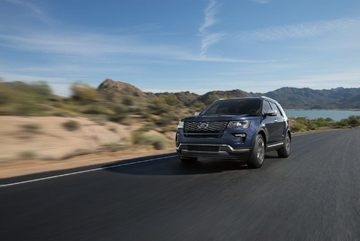 Experience the best adventures Southern California has to offer with a spring road trip. Check out these impressive Southern California destinations and everything in between. There is no better way to appreciate the mild temperatures, great weather, and blooming nature of California than with a road trip in the springtime. For those who want a more urban feel, the downtown nightlight of L.A., San Diego, and various coastal towns along Pacific Coast Highway (California SR 1) are sure to please.
Your options for adventure in the great state of California are almost unlimited, but there are a few road trips in Southern Cali that stand out for being the ultimate spring getaways. Get everything you want from scenic views, great food, iconic landmarks, and state parks to downtown nightlife and luxurious resorts. All you have to do is get there. Since the journey is almost as good as the destination, plan your next California road trip in a 2018 Ford Explorer or 2018 Ford Escape.
Best Scenic Views and Drives
Sunset National Scenic Byway- Located outside of San Diego, the Sunset National Scenic Byway stretches 24 miles between the Cuyamaca Reservoir and the Laguna Junction. Expect to see mountainous views, colorful meadows, and stunning views from the highway without ever leaving your vehicle.
Palms to Pines Scenic Byway- Looping from the desert of Banning, CA is a climbing road through the mountainous beauty of the San Bernardino National Forest. See snow covered mountain tops, valleys flourishing with wildlife, and stop at any of the several lookout points for a hike. There are plenty of stops along the way for food, shopping, and even cultural adventures.
Must See Stops
Amusement Parks- Southern California is a tried and true vacation location well known for its selection of amusement and theme parks. Spend the day or weekend experiencing Walt Disney parks, Universal Studios, Knott's Berry Farm, and SeaWorld.
National Parks- Get your nature fix when you cruise through Southern California. SoCal is the perfect spring road trip destination for nature lovers. Choose between mountainous scenery of the Cleveland National forest, the dry Mojave Desert, or Seaside tide pools at Heisler Park. Why choose one when they are all so close together. You can have the full outdoor California experience all within a day's drive.
Places to Eat
Anywhere along the coast you will find world-famous eateries and restaurants. Blue Water Seafood Market and Grill can start off your trip down in San Diego. If you find yourself craving fish while a little further north, drop into Lure Fish House for a true taste of the sea. Further inland there are tons of options, including Indian and Nepalese cuisine from the famous Himalayan Restaurant in Big Bear Lake, CA. For and upscale night out, try The Pines located inside of the San Manuel Casino in Highland, CA.
Everyone can find something to enjoy on a spring or summer road trip to Southern California. Always remember to prepare for the road ahead of time. Make sure your vehicle is properly maintained and ready for the California heat and sudden changes in elevation. Stop by your local Southern California Ford Dealers to have your regularly scheduled maintenance done, or to upgrade to a road-ready newer model.