What is the Light on My Dashboard?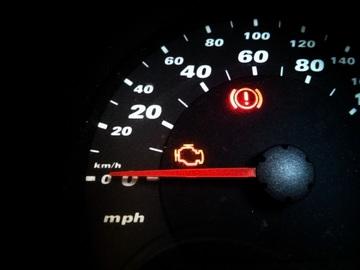 Most of us are familiar with the unpleasant feeling of driving around with a warning light on our dashboard. The looming fear of breaking down is very real when you are face to face with a check engine light, Knowing what to do when the time comes can help save you time and money, as well as keeping you safe.
.
Preparation is key, and knowledge is power. If a check engine light illuminates on your dashboard, you want to know what to do and where to go. To truly be prepared, you want to be able to identify your warning light, determine how detrimental it is, what needs to be done, and where to go. Luckily, your Southern California Ford Dealers are here to shed some light on those dashboard warnings, so you can have a plan.
.
Identify the Warning Light
The best way to know what your warning light means is to read you owner's manual. This has all the lights for your specific vehicle, and there is little to no confusion or second guessing yourself if you take the time to read your manual ahead of time. Also know that your lights are color-coded, so you can tell how serious it may be. Green lights are usually friendly reminders, while amber lights have some urgency to them. Anything that pops up red warrants attention ASAP.
There are many warning lights, and all of them are there for a reason. You will notice oil warnings, fuel warnings, a general warning light, and possibly a battery light. Which dashboard warning lights are present on your car will depend on its make, model, and age. Vehicles produced before 1996 have a different set of federal laws to abide by and have simpler diagnostic systems that are sometimes harder to read and use. Newer models tend to have very specific diagnostic systems, that may also overcomplicate things for the average driver. No matter what you drive, have a plan on how to handle any kind of check engine or warning light. Here's what you can do.
.
Getting A Scan
The next step is to get the vehicle scanned for diagnostic codes. This is how we find out what the vehicle is trying to tell us. All warning lights turn on when one of these codes has been set. You must get your vehicle to someone who can scan the codes, and interpret them so that you know what caused the light to illuminate. Any corrective action can be taken from there.
Its important to know where to take the car if, and when a check engine light comes on. Codes can be read at nearly any major automotive parts store. Other professional mechanics will also scan the vehicle for you, but they may charge a diagnostic fee. This is usually appropriate, because they go a few steps further to search out the issue and verify the problem. Honest technicians will then apply that diagnostic fee to the cost of repairs if you choose to have them do the work.
.
No matter what make or model you drive, your local Southern California Ford Dealers will be able to help get you and your vehicle back on the road. We are happy to diagnose Ford vehicle dashboard warning lights, and we are equipped to scan and repair most other models as well. If you find yourself staring at a check engine light, don't hesitate to reach out. Call or come to your local Southern California Ford Dealers service center for a diagnostic check or car care maintenance service.