Plan A Road Trip in a Ford Edge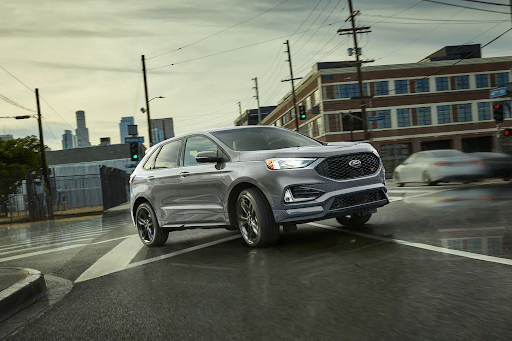 At Southern California Ford Dealers, we know that when you live life on the go, you need a car that can match your energy. That's why we are excited about the new Ford Edge, an SUV built to handle any and all of life's surprises.
Its dynamic design, state-of-the-art safety innovations, and wide range of features will have you yearning for the open road.
Flawless Design
The Ford Edge makes a bold statement wherever it goes. Its stylish body, including an eye-catching grille, sleek contours, and 20-inch gloss black wheels, make it one of the most noticeable vehicles on the road.
In your new Ford Edge, you'll be able to light the way with the brighter and more modern LED headlamps. And with the available 180° camera, you'll feel completely confident in your safety every time you slide behind the wheel.
Once you get inside the cabin, you'll never want to leave. The Edge caters to your every comfort down to the finest detail. The 12-inch touchscreen provides a better view of your Infotainment system, and the standard leather-trimmed seats will have you planning your next road trip.
The innovative new gear shift dial is a gamechanger. Thanks to its compact design, you'll have more space for your drinks and essential items, and you'll love the easily accessible USB port.
If you're planning an outdoor getaway, the Ford Edge has you covered. Ask one of our team members about the available Class II trailer tow package, which boasts a maximum tow capacity of 3,500 pounds!
The Ford Edge has it all: comfort, style, and versatility. This bold SUV is a must for your next trip.
Powerful Performance
When you feel the need to get up and go, the Ford Edge can get you to your destination with speed and efficiency. You'll have your choice of two beefy engines, both designed to give you a boost of power while maintaining high MPG.
That's not the only way the Edge keeps your gas tank in mind. The auto start-stop system is designed to power down your vehicle whenever you bring it to a complete stop, saving you fuel and reducing emissions.
For that adrenaline-inspiring sporty feel, you'll love the eight-speed automatic transmission. The racing-inspired steering paddles will give you the feeling of shifting gears without ever having to move your hands from the steering wheel.
If you're planning a trip off the beaten path, be sure to ask us about FordPass Connect, which will turn your Edge into a mobile Wi-Fi hotspot. Enjoy connectivity for up to 10 devices and keep your passengers entertained while you enjoy the drive.
With all these features and more, you'll leave the quiet life behind in the Ford Edge!
Safety Innovations
Your safety is our top priority, and the Ford Edge doesn't lack when it comes to cutting-edge safety systems. Drive with confidence with all the features the Edge has to offer.
Blind Spot Information System (BLIS). Traffic can be unpredictable even in the best of times. This intelligent system monitors the vehicles around you and will alert you when another car enters your blind spot or crosses behind you.
Lane Keeping System. Distractions on the road are all too common, and that's why we love this incredible safety feature. This system will notify you if it detects unintentional lane drift and can even correct your steering if you do not respond right away.
Pre-Collision Assist with Automatic Emergency Braking. This available feature literally saves lives. It is constantly on alert for possible danger and can detect potential crashes with other vehicles and unexpected pedestrians. It will even apply the brakes if it senses a collision is imminent.
Evasive Steering Assist. Unexpected traffic jams are a hassle, but they can be dangerous, too. This available system will provide a helping hand in avoiding collisions, providing additional steering support when evading a collision is necessary.
These are just some of the state-of-the-art safety features the Ford Edge provides. Ask one of our team members for more details about all the ways the Edge can keep you and your loved ones safe. It's a conversation that could save lives.
About Us
At Southern California Ford Dealers, we believe your next road trip should be taken in style and comfort. That's why we can't wait to show you the new Ford Edge. Its powerful engine, sporty design, and hauling capabilities make it the ideal SUV to take you across the country and across town alike.
Southern California Ford Dealers are a group of dedicated Ford Dealers in the greater SoCal area. We are passionate about getting you into the vehicle that you'll love. Stop by any one of our locations and talk with one of our team members about all the ways the Edge will meet your needs.
Visit our website and browse our available inventory, or locate your nearest dealer with our location finder. We are confident that the Edge will have everything you're looking for.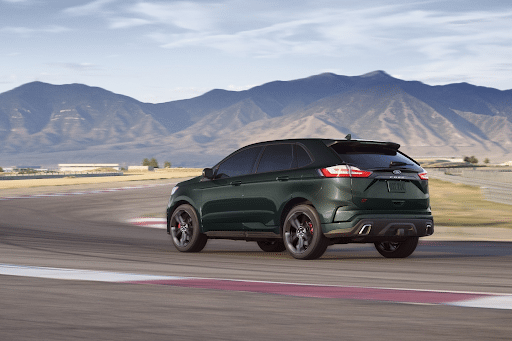 Back to all blogs