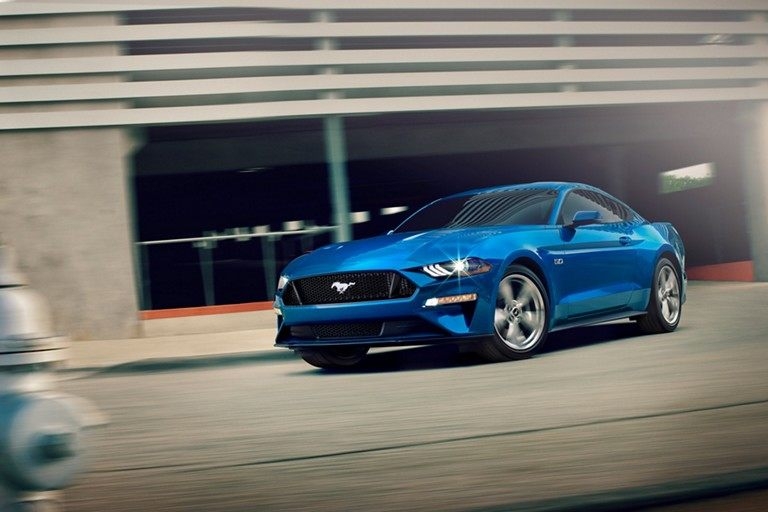 Overview
THE 2019 MUSTANG. MAKE IT PERSONAL.
Mustang is designed to custom-fit the way you drive, down to the last detail. From the look of the instrument panel to the sound of its growl to the way it feels tackling a curve, this legend was born to make your own. Plus, Mustang is the 2018 Highest Ranked Midsize Sporty Car in Initial Quality.*
Whether you're tearing up the track or taking the scenic route, steering and drive modes make it easy to customize your ride—and save your go-to settings for next time.
Personal style is in the details. Make your own statement from the inside out—including interior trims, wheels and even adjustable cluster hues.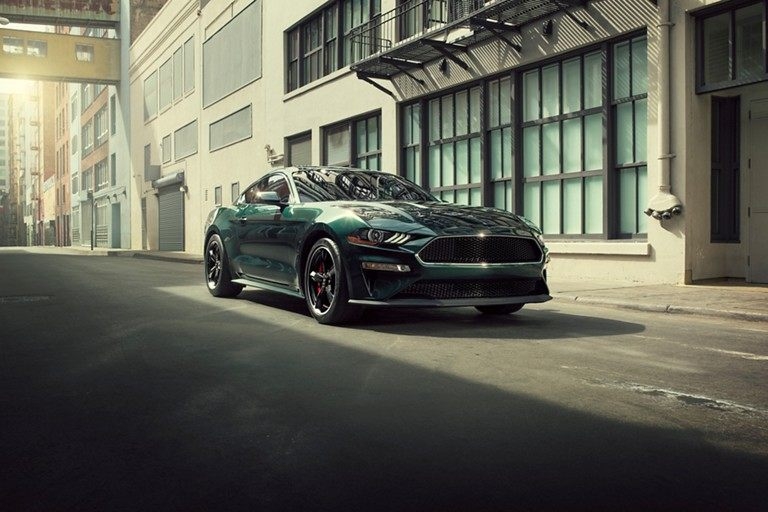 Design
THE CONTEMPORARY CLASSIC.
It's the classic performance car that only gets better. Especially for 2019. New this year is the legendary Mustang BULLITT, sporting striking interior- and exterior-themed features. There's the California Special available on GT Premium. And because nothing quite complements your ride like wheels do, you now have your choice of 14 different styles.
THE MOST FAMOUS MUSTANG EVER.
What makes BULLITT stand out? It could be its green accent hand stitching, 12-inch LCD digital instrument cluster, white cue ball shift knob or the wheels with high gloss black-painted pockets. There's a lot that goes into a name.
CALIFORNIA SPECIAL PACKAGE
Picture your GT Premium Mustang with this package. Features include 19-inch machined-face aluminum wheels with high-gloss Ebony Black-painted pockets, unique front grilles with offset tribar Pony logo, pedestal rear spoiler, Performance Package front splitter, California Special badging on the interior and exterior, side scoops, side stripes, Miko® suede door and seat inserts, and floor mats with red contrast stitching and California Special script logo.
GT PREMIUM
The GT Premium combines accommodating comfort with sporty style. Among a long list of features, this model includes heated and cooled leather-trimmed front seats, dual-zone electronic automatic temperature control, aluminum pedals, illuminated door-sill scuff plates, an angle brushed aluminum instrument panel and more.
DROP THE TOP
The cloth convertible top is electrically driven for quick, quiet operation. You can easily open or close it from the driver's seat thanks to a center latch. And the trunk is large enough to accommodate your golf bag – even with the optional new B&O™ Premium Sound System with subwoofer.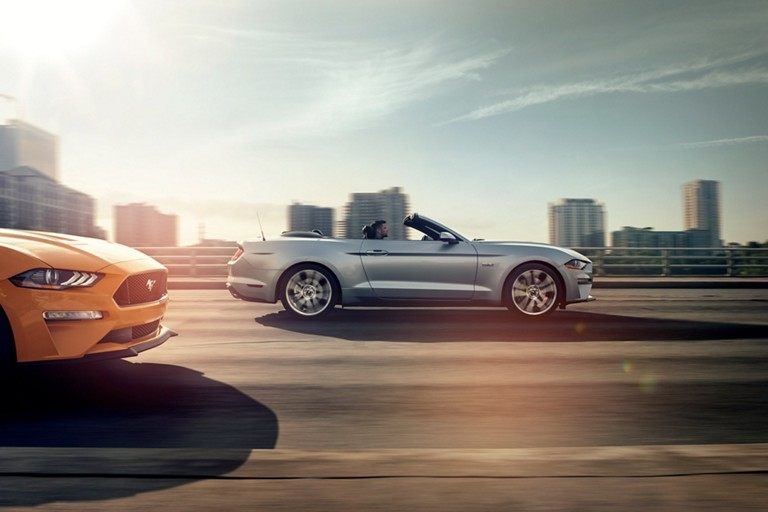 Performance
PERSONALIZED PERFORMANCE.
Three engines. Two transmissions. Five performance settings – from Normal to Track and Drag Strip modes. There's a lot to choose from. And that's not even including the exhaust note, or Quiet Start mode to keep your neighbors happy in the morning, or the Track setting to let everyone know you've arrived.
GO FROM A WHISPER TO A ROAR.
The class-exclusive* active valve performance exhaust lets you control the volume of the Mustang exhaust. If you're leaving for work early in the morning, set it for Quiet Start. Need an energy boost when you're leaving work? Select the Sport setting. Other modes include Normal and Track. Now available on all EcoBoost® engines.
IT'S ALL ABOUT PERFORMANCE.
The 10-speed architecture, featuring Ford-patented technology, is designed for optimum ratio progression and performance. It also provides an accurate and quick upshift and downshift capability. Steering wheel-mounted shift paddles, a feature found in race cars, are included.
LAUNCH CONTROL AND ELECTRONIC LINE-LOCK
Launch control* integrates the brakes, traction control and powertrain control to help ensure quick starts, while real-time performance info is displayed on the in-dash LCD screen. The electronic line-lock* system does the hard work for you by locking the front brakes and releasing the rear brakes. Those back tires will be spinning and warmed up in no time.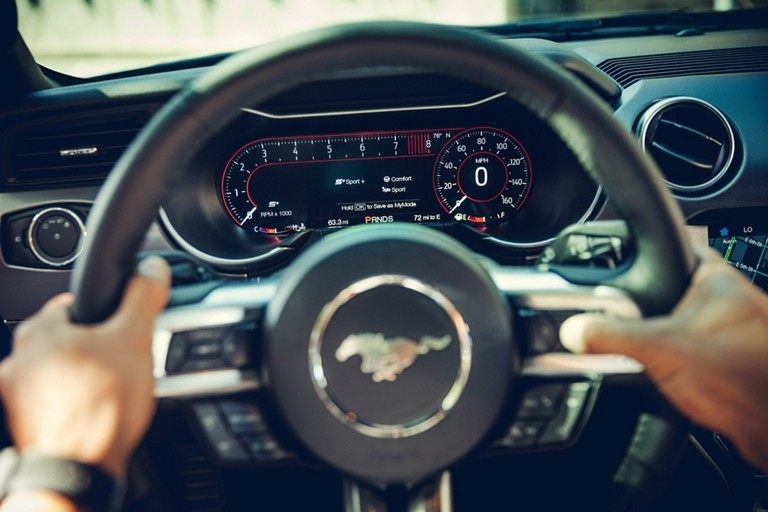 Technology
YOU'RE IN CONTROL.
Mustang takes advanced technology and makes it personal. The gauges, for example. Not only can you select the layout, you can also choose the color. With FordPass,TM you can find the lowest price for gas on your route.
And with Track Apps,® you can instantly view a number of performance metrics on the instrument panel. Think of these features as the brains behind the beauty.
IT'S ALL ABOUT YOU.
You're in absolute control of everything you see. Customize colors. Choose your gauge layout. Tailor each selectable drive mode to get the most out of your driving experience. It's easy to view, fast and responsive. And, like everything else in this Mustang, absolutely beautiful. Optional on the EcoBoost® Premium and GT Premium, and standard on BULLITT.
MYMODE
When you opt for the available 12-inch LCD digital instrument cluster, you can set your favorite drive settings and the MyMode system will remember them next time you get behind the wheel. That even includes exhaust and steering preferences.
SMOKE 'EM IF YOU GOT 'EM.
Standard on all models, performance metrics are instantly provided in the instrument cluster. Accelerometer displays lateral and longitudinal g-forces, acceleration times and lap times, plus automatic and countdown starts. Also included are features like electronic line-lock* and launch control* (manual only). Electronic line-lock keeps the front brakes locked while Mustang is in gear to warm up the rear tires. Launch control integrates brakes, traction control and powertrain control to help ensure smooth consistent starts.
Miko is a registered trademark of Miko s.r.l.
BANG & OLUFSEN© 2018 and B&O© 2018. BANG & OLUFSEN™ and B&O™ are registered trademarks of Bang & Olufsen Group.
Licensed by Harman Becker Automotive Systems Manufacturing Kft. All rights reserved.


*The Ford Mustang received the lowest rate of reported problems among Midsize Sporty Cars in the J.D. Power 2017-2018 U.S. Initial Quality Studies of new vehicle owners' experience with their own vehicle after 90 days of ownership. Visit jdpower.com/awards


*Class is High-Power Sports Cars based on Ford segmentation.
*Track use only.