Overview & Smart Safety
Combining sleek styling with engaging road dynamics, advanced technologies, and clever features, the 2018 Ford Fusion makes for a compelling midsize sedan. It transforms even daily commutes into something more, ensuring you enjoy your time behind the wheel. Find your 2018 Ford Fusion for sale in Southern California by contacting your local Southern California Ford Dealers.
You deserve a car that makes you feel confident, and the Ford Fusion does that through advanced safety technologies. For example, adding Pre-Collision Assist means sensors can detect when a possible collision with something in front of you is a risk, including with a pedestrian. To get your attention, a warning light flashes on the windshield, and an audible alert sounds. At the same time, the brakes precharge and increase in sensitivity, so you can stop sooner. If you don't react to the situation, the system can apply themselves automatically, mitigating a collision or even avoiding it.
Another innovation, the lane-keeping system uses a camera mounted behind the windshield to read lane lines. If you start leaving the lane without signaling, the system will warn of the danger by vibrating the steering wheel, like rumble strips on a road. At the same time, this technology applies a gentle degree of torque to the steering, directing the car back into the lane and to safety.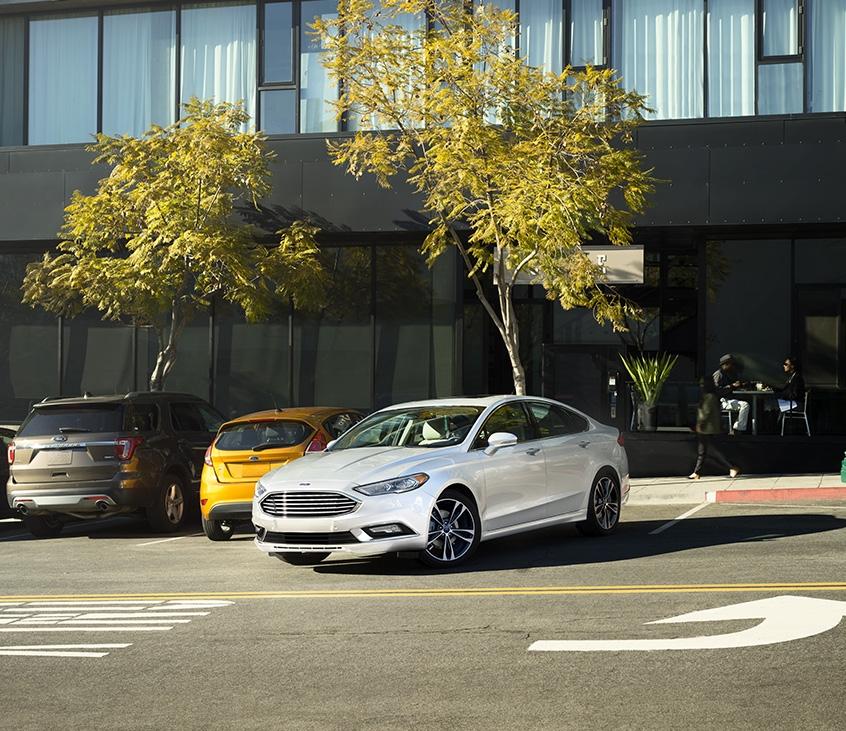 Performance
You get more than just an everyday car with the Ford Fusion. Thanks to an exciting lineup of engines, each time you climb behind the wheel, adventure awaits.
Three different EcoBoost engines provide amazing fuel economy, plus strong acceleration. To do this, they combine turbocharging with direct injection. If you opt for the 1.5-liter EcoBoost, it comes with an automatic start-stop system that eliminates idling, saving even more fuel.
All models use a smooth 6-speed automatic transmission. Choosing optional steering wheel-mounted paddle shifters allows you to take control at a moment's notice. The MacPherson strut-type suspension provides a European flair, making handling more precise and sporty. With the electric power-assisted steering, pull-drift compensation means you don't have to constantly be correcting for irregularities in the road surface, or a strong crosswind.
Choosing the Ford Fusion Sport means you get an incredibly potent 2.7-liter EcoBoost V-6. The engine kicks out 325 horsepower and 380 lb.-ft. of torque, making for monstrous performance. Standard all-wheel drive helps you handle all that power with ease. Continuously controlled damping monitors suspension movement constantly, along with steering wheel angle and other elements, automatically adjusting to conditions in milliseconds. The technology even mitigates the effects of potholes, which leads to greater comfort and avoids costly damage to your car.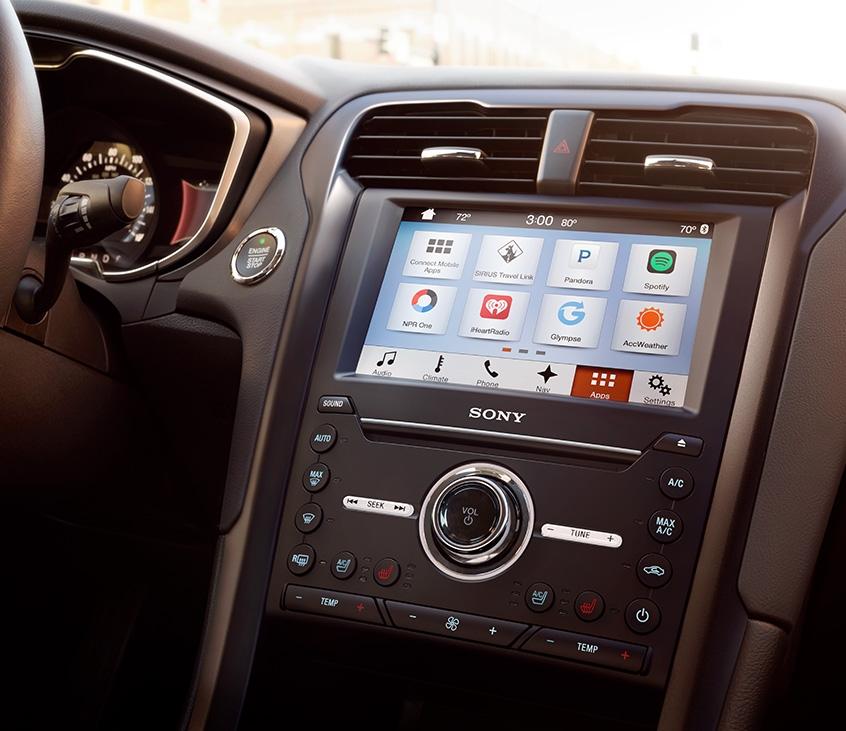 Comfortable Interior
Your comfort counts for quite a bit. After all, between commuting to and from work, running errands, and going places on the weekend, you spend plenty of time in your car. The Ford Fusion has designs that will keep you feeling refreshed and satisfied, even after hours on the road.
All five seats feature excellent padding that supports your body in all the right places. Optional leather upholstery provides a soft surface, while adding heated/ventilated front seats allows you to quickly adjust to the different seasons. You can add plenty of other amenities, such as a power moonroof, an upgraded sound system, and SiriusXM Traffic, to name a few.
Try out the 2018 Ford Fusion for yourself through your Southern California Ford Dealers.