2017 Ford Taurus vs 2017 Chevrolet Impala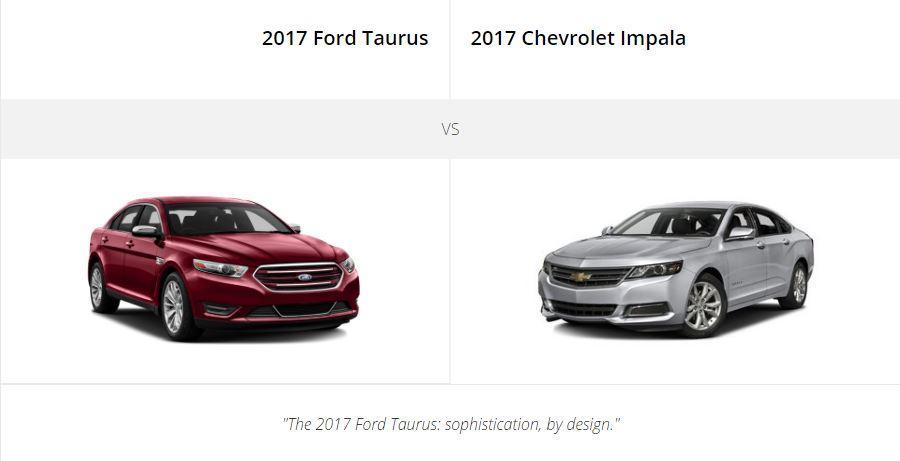 The 2017 Ford Taurus and the 2017 Chevrolet Impala are both large cars. If you are looking for this type of vehicle, it is extremely helpful to know how these two compare. The results of the Taurus vs. Impala comparison are quite a revelation!
2017 Ford Taurus Vs. 2017 Chevrolet Impala: Taurus Is The Price Leader
Right off the bat, the 2017 Taurus is priced lower. Its base MSRP is $27,345, while the 2017 Impala starts at $27,500. That $155 difference can buy you about four tanks of gas!
Ford Vs. Chevrolet Power: Taurus Wins On Speed And Acceleration
The standard engine that comes in the 2017 Ford Taurus is a 3.5L V6 with 288 horsepower. This means you have plenty of power, even when you are driving fully loaded in this large five-passenger car. The 2017 Chevrolet Impala has to get by with its standard 2.5L four-cylinder engine with an output of only 197 horsepower. That's 91 horsepower less than the Taurus, which is quite a big difference.
This difference shows very well in the cars' zero to 60 mph times: Taurus does it in a quick 6.7 seconds, while the Impala takes 7.8 seconds. Quarter-mile acceleration times also show what a difference more power makes. The Taurus puts up a time of 15.0 sec. @97 mph, compared to the Impala's 16.1 sec. @ 89 mph. A significant difference!
Taurus Vs. Impala Space: Taurus Wins Inside And Outside
In terms of interior roominess, the 2017 Taurus gives you space where it adds to your comfort. The Taurus beats the Impala in front hip room, rear hip room, and rear head room. Taurus also has a larger trunk than Impala.
On the outside, Taurus justifies its large car status. Compared to the 2017 Impala, the 2017 Taurus is longer, wider, and taller. It also has a longer wheelbase, and wider tracks, front and rear. Size is space, and Taurus delivers!
Ford Vs. Chevrolet Features: Taurus Has More As Standard
Standard equipment levels are an important way of defining value in cars you are comparing. The 2017 Ford Taurus has a number of important features that are included as standard equipment. These items are available at extra cost in the 2017 Chevrolet Impala, or may require you to purchase a higher, more expensive trim level to get them. With Taurus, they are included at no extra cost:
· Premium Sound System
· 18" Aluminum Wheels (Impala has steel wheels)
· Driver And Front Passenger Power Seats
· MP3 Capability
Taurus Vs. Impala Capability: Taurus Offers All-Wheel Drive
Attention, large car buyers who appreciate all-wheel drive and its ability to keep you safe and secure in adverse weather conditions! The 2017 Ford Taurus gives you the option of adding all-wheel drive. It's a great feeling to have it when you really need it. And what about the Impala? All-wheel drive is simply not available. Sorry about that!
Ford Taurus Vs. The Competition: Taurus Is Victorious!
Let's wrap it all up. The 2017 Ford Taurus Vs. 2017 Chevrolet Impala comparison is an easy one to call! The 2017 Taurus from your Southern California Ford Dealers beats the 2017 Impala on price, acceleration, space, standard equipment, and all-wheel drive. Contact your local Southern California Ford Dealer for a great test drive.