2017 Ford Fiesta vs 2017 Chevrolet Sonic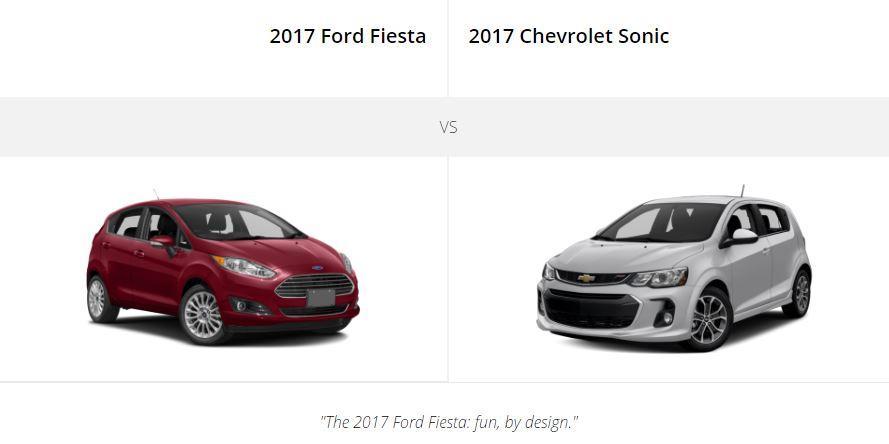 The 2017 Ford Fiesta and the 2017 Chevrolet Sonic are both subcompact cars. If you are looking for a vehicle of this type, you should know how these two compare. The results of the Fiesta vs. Sonic comparison are an eye-opener!
2017 Ford Fiesta Vs. 2017 Chevrolet Sonic: Fiesta Is Way Ahead On Price
A low price is very important when buying a subcompact car. In this comparison, the 2017 Fiesta is clearly the winner. The Fiesta comes in at a base MSRP of 13,660, with the 2017 Sonic starting at $15,145. That's a price advantage of $1,485 – enough to cover many tanks of gas, several weekend getaways, or some options for your Fiesta!
Ford Vs. Chevrolet: Fiesta Wins On Fuel Economy Across The Board
If you are buying a subcompact car like the 2017 Fiesta or the 2017 Sonic, you want to keep your cost of operation as low as possible. And getting superior fuel economy is one of the best ways to do that.
The 2017 Ford Fiesta is the clear winner here, besting the Chevrolet Sonic both in the city and the highway. The Fiesta gets an EPA-estimated 27 MPG city vs. the Sonic's 25 MPG, and gets 35 MPG on the highway compared to the Sonic's 33 MPG. That's a positive benefit that keeps adding up, taking you farther on every single gallon of gas you put into the tank. Add Fiesta's better fuel economy to its larger fuel tank, and you also get much longer range on each tankful than the Sonic can offer.
Fiesta Vs. Sonic Space: Fiesta Has More Room Where It Counts
Some subcompact cars can feel cramped for space inside. But not the 2017 Fiesta! The Fiesta offers you more front head room and front leg room than the Sonic does. This means that the driver and front passenger have more room to stretch out their legs, and won't feel like their heads are touching the roof. Your comfort is important, and the 2017 Ford Fiesta takes your comfort seriously.
Ford Vs. Chevrolet Features: Fiesta Gives You More Standard Equipment
Value is very important to subcompact car buyers. An important way to measure value in a subcompact car is by what you get as standard equipment that other cars charge extra for. The 2017 Ford Fiesta has several important items of standard equipment that Sonic charges extra for, or includes with higher trim levels:
· Leather Seating
· Premium Sound System With Six Speakers (Sonic offers four)
· CD Player
· Rear Parking Aid
· MP3 Capability
When you consider that Fiesta gives you all this for $1,485 less than the Sonic, we are really talking value here! Fiesta gives you much more for your automotive dollar!
Ford Fiesta Vs. The Competition: Fiesta Is The Winner!
Let's put it all together. The 2017 Ford Fiesta vs. 2017 Chevrolet Sonic comparison gives Fiesta the win! The 2017 Ford Fiesta from your Southern California Ford Dealers beats the 2017 Chevrolet Sonic on price, fuel economy, interior space, and standard equipment. Contact your local Southern California Ford Dealer for a test drive today.