2017 Ford Explorer vs 2017 Toyota 4Runner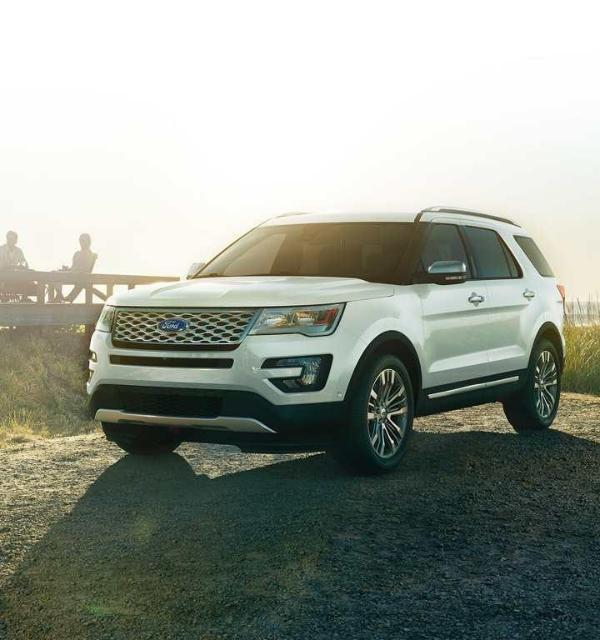 If you want a vehicle that can pretty much do everything you could reasonably ask, it's hard to look beyond a full-size SUV or crossover. When the Ford Explorer moved from being a midsize to a full-size, it also ditched the body-on-frame underpinnings for a modern unibody platform. So, how does it compare to a more traditional truck-based SUV these days? To find out, we're going to do a 2017 Ford Explorer vs 2017 Toyota 4Runner comparison and see who comes out on top in a Ford vs Toyota head-to-head.
Styling
The Explorer is the epitome of a modern SUV. It's big and rugged, but it's also very sleek, handsome and stylish too. It's a lot like a bigger version of the Ford Edge, which isn't a bad thing by any means. And like its smaller Escape and Edge siblings, the Explorer also leans to the sportier side of the styling spectrum, especially with the introduction of a Sport Appearance package this year. The 4Runner is probably as retro as the Explorer is modern. The Toyota is a truck front end with a wagon body, and the styling does nothing to suggest otherwise. It's definitely rugged, but these days a lot more buyers will like the way the Explorer looks, so first blood goes to the Ford here in our Explorer vs 4Runner shootout.
Engines
There are three engines available for the Explorer, which are a naturally aspirated 3.5-liter V-6 and two EcoBoost units. It's hard to see the point of the base engine when the more fuel-efficient 2.3-liter inline-four EcoBoost offers almost identical power. There are no doubts about the credibility of the 3.5-liter twin-turbo EcoBoost V-6 though, with its fabulous 365 horsepower. Only one engine is available in the Toyota 4Runner, and the fact it's a 4.0-liter V-6 that develops 10 horsepower less than the Explorer's inline-four tells you it's far from a cutting-edge powerplant. This is another easy victory for the Ford.
Features and Equipment
You'll find everything you'd expect in a vehicle costing north of $30k in the Ford Explorer. Base models come standard with: power features, Bluetooth connectivity, cruise control, cloth upholstery, steering-wheel controls, and an AM/FM/CD stereo with 4.2-inch display and six speakers. Add the new Sport Appearance Package to the XLT trim and you get: 20-inch alloys, a gray grille insert and rear applique, a black roof rack, and gray leather seating with gray suede accents and contrast stitching. It's a similar story with the 4Runner as a good infotainment system is standard, and as navigation is also standard on most models we'll give this round to the Toyota.
Capability
If you regularly need to carry up to seven people, the Explorer offers a good amount of interior space as it's one of the bigger vehicles in its class these days and delivers a good mix of comfortable seating, versatility, and space for families. Although not a hardcore off-roader, it's more capable away from the pavement than some smaller rivals. You can have a third row in the 4Runner, but there's not much room in there for it and that's why you won't see many specified that way. If you want to do some serious off-roading though, that's where the 4Runner is happiest. That's a pretty niche capability though, so this is another victory for the Ford.
Verdict
If you want a serious off-road capable vehicle that also looks like a serious off-road capable vehicle, the Toyota 4Runner is for you. If you want a superbly stylish, comfortable, capable and well-equipped seven-seater that can also handle a bit of the rough stuff, the 2017 Ford Explorer is what you need.
The 2017 Ford Explorer is available now, so for more information and to arrange a test drive get in touch with us here at Southern California Ford Dealers today.