2017 Ford C-Max Energi vs 2017 Nissan Leaf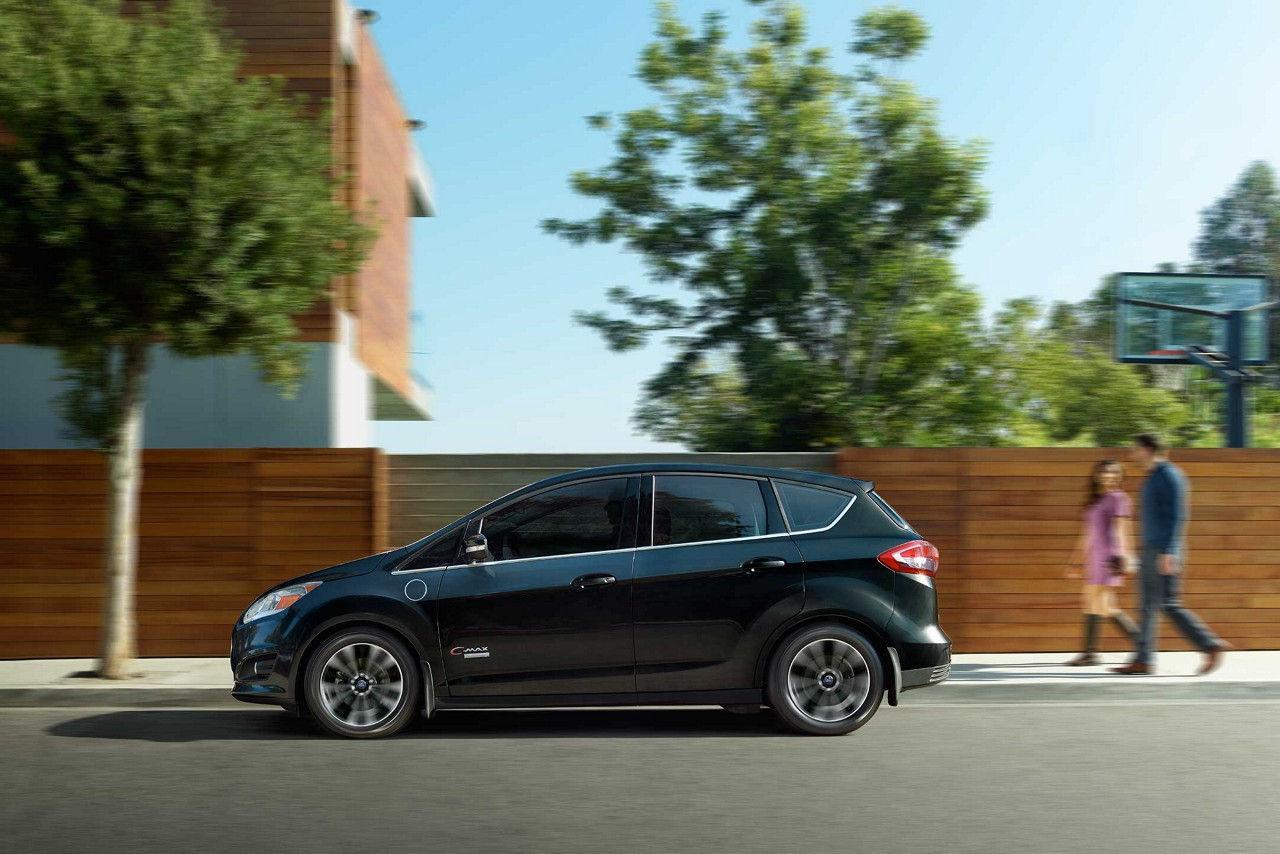 If you're looking for an electrified vehicle for family duty, the Nissan Leaf isn't the new kid on the block anymore and it's far from the only choice. The 2017 Ford C-Max Energi isn't an all-electric EV like the Leaf, but as it's a plug-in hybrid it can be run on electric-only. So, let's see how they shape up by comparing the 2017 Ford C-Max Energi vs 2017 Nissan Leaf in a head-to-head Ford vs Nissan shootout.
Powertrains
The C-Max utilizes a hybrid gas/electric powertrain comprising of a 2.0-liter inline-four gas engine and two electric motors for a 195 horsepower combined power rating. The C-Max Energi has a 7.6 kWh battery that's considerably larger than the 1.4 kWh battery in the standard C-Max Hybrid, so it offers up to 20 miles of all-electric driving range on a full charge. The Nissan Leaf doesn't have a gas engine to fall back on when the battery runs out, which is why it has a 107 mile range on a full charge. The C-Max can get from 0-60 mph in around eight seconds, so the fact the Leaf takes around 10 seconds for the same task helps to make this a first win for the Ford in our C-Max Energi vs Leaf comparison.
Exterior Styling
It's not unfair to say the C-Max Energi is no exotic sports car in terms of how it looks, but this designed-for-Europe family car is smart, sensible and contemporary looking. It's part hatchback, part tall wagon and there's even a hint of minivan in there, which reflects its overt family practicality. The Nissan Leaf looks, well, like a Nissan Leaf. Anyone who knows anything about cars will recognize it as an EV straight away, which is fine if you're happy to flaunt your eco-friendly credentials. Otherwise, the Leaf is a funny looking, bug-eyed compact that's only going to appeal to a relatively small audience, and that's why this is another round going to the Ford.
Interior Space
Until you see it in the flesh, the C-Max Energi probably looks bigger than it really is. In fact, at 173.6 inches long it's actually 1.4 inches shorter than the Nissan Leaf. However, there's an impressive 99.7 cu.-ft. of passenger volume in the Ford and just 92.4 cu.-ft. in the Nissan. This translates to more room for passengers by almost every measure, especially for legroom in the rear seats as the C-Max has 36.5 inches to just 33.3 inches in the Leaf. It's got to be another win for the C-Max Energi then.
Fuel Economy
There's no getting away from the fact the C-Max Energi is one of the most fuel-efficient cars Ford currently offers, even though it has had to reduce the figures in recent years a little. The EPA rates the Ford at 39 mpg combined when operating in the hybrid mode, and it gets an overall rating of 95 MPGe when all-electric capability is taken into consideration. Obviously there's no mpg rating for the all-electric Leaf EV, but the combined MPGe figure of 112 is quite a bit better than the C-Max, so the Nissan finally gets a win.
Verdict
If you want all-electric driving and you can live with the inherent restrictions, the Leaf's improved range of 107 miles on a single charge will be welcome news that makes it a little more useable than it was before. But if you need more flexibility, practicality and interior space in your family vehicle, you have to go for the versatility of the C-Max Energi every time.
For more details about the 2017 Ford C-Max Energi and to arrange a test drive, don't hesitate to get in touch with us here at Southern California Ford Dealers.