Upgraded 2020 Ford Mustang Shelby GT350R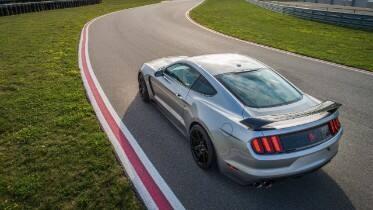 There's something of a space-race going on in the sports car and muscle car world at the moment, as new models are getting more and more powerful and hardcore track-focused versions are becoming increasingly commonplace. Ford Performance cars are obviously not going to be left out, which is why the Mustang performance lineup is delivering some upgrades to the Ford Mustang Shelby GT350R for the 2020 model year.
When this greatest-ever Mustang performance lineup arrives, the latest 2020 Ford Mustang Shelby GT350R will boast some new performance technology and colors borrowed from its stablemates to make it even a better drive both on the track and on the road.
2020 enhancements
The focus of enhancements to make the 2020 Ford Mustang Shelby GT350R even better than it already was are some upgrades to the handling and steering responsiveness. American performance cars have been unfavorably compared to European and Japanese rivals for decades, and the main criticism of American models has been that they concentrate on straight-line power and performance and tend to ignore handling and cornering. That used to be a fair criticism, but not any longer.
Shelby GT350R refinements for 2020 come in the form of redesigned front suspension geometry with a redesigned high-trail steering knuckle, which has been borrowed from the all-new Shelby GT500. To improve driver confidence and steering precision to an even greater level than previously, a newly designed steering rack and recalibrated electric power steering control has also been added to the mix.
Embracing existing excellence
The philosophies that have already made the GT350R before the 2020 model year arrival are still very much to the fore. Therefore, GT350R continues in its mission to deliver increasingly aggressive weight reduction targets with the rear seats dispensed with and the use of lightweight, but extremely strong, carbon fiber wheels. Even the exhaust resonators have been removed for the purpose of weight saving, but this also has the added benefit of producing an even sharper exhaust note.
Ed Krenz, the Ford Performance chief program engineer, says of the 2020 GT350R, "It's always been our plan to take the latest innovations from the GT500 program and strategically apply them across the Mustang lineup. These latest updates to the GT350R keep its performance competitive and on the top of its game, whether that's on the track or on the street."
More than just a track car
Even though this lightweight track beast packs a 5.2-liter V-8 under the hood developing a staggering 526 horsepower and 429 lb.-ft. of torque, it's still a car you can use quite happily as a daily driver. In its basic form, it can feel a little stripped-down, but if customers prefer a few more luxuries and comfort they can opt for the available Technology Package that includes a 12-speaker B&O premium sound system, Blind Spot Information System with Cross-Traffic Alert, Cobra Puddle Lamps and even voice-activated navigation.
Of course, if you're going to be riding around in something this special you probably want people to know about it, but in a suitably subtle way. Therefore, the GT350R has some distinct design details to distance it from the "regular" GT350, such as exterior touches that include red-painted brake calipers and red pin striping at the edges of the over-the-top racing stripes that are still an option and Shelby GT350R badging. On the Inside you'll find high-contrast red stitching, additional Shelby GT350R badging and a particularly sporty D-shaped steering wheel that has a red center mark at the top.
To find out more about the awesome 2020 Ford Mustang Shelby GT350R and to try this beast out for yourself on a test drive, get in touch with us today here at Southern California Ford Dealers, your premier choice Ford dealers.
Source:
https://media.ford.com/content/fordmedia/fna/us/en/news/2019/08/12/upgraded-mustang-shelby-gt350r-picks-up-new-chassis-technology.html