2020 Ford Super Duty Pickup Truck Payload and Towing Capacity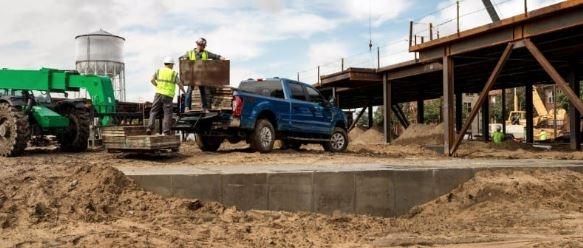 All-new 2020 Ford Super Duty Boasts Best-in-Class Towing and Payload
The Ford Super Duty is completely redesigned for 2020. And with the refresh, comes a new powertrain lineup, along with record-breaking towing and payload capacities.
2020 Ford Super Duty Payload and Towing Capacity
An all-new 7.3L V8 engine (430 hp, 475 lb.-ft.) is available under the hood of the 2020 Ford Super Duty. You can also opt for the tried and true 6.7L Power Stroke turbodiesel (475 hp, 1,050 lb.-ft.), which has been upgraded to make it more robust than ever before. Both engines pair with an all-new 10-speed automatic transmission – and both offer best-in-class horsepower and torque.
The venerable 6.2L V8 engine (385 hp., 430 lb.-ft) is still offered as well. A 6-speed automatic transmission comes standard with that engine choice.
With such stout drivetrain options, it's no surprise the 2020 Super Duty can out-tow and out-perform the competition on nearly every level. The hard-working truck boasts draw-dropping towing and payload capacities.
The 2020 Ford Super Duty holds best-in-class capability for pickup trucks over 8,500 lbs. in the following areas:
•
Maximum available diesel gooseneck towing (37,000 lbs.)
•
Maximum available fifth-wheel towing (32,000 lbs.)
•
Maximum available diesel conventional towing (24,200 lbs.)
•
Maximum payload capacity with the standard 6.2-liter gas engine (7,850 pounds)
A properly equipped and configured Super Duty could tow as many as 31 American quarter horses.
"Ford truck customers are building a better world with Super Duty and we're helping them work even harder with the most available diesel towing, payload, torque and power you can get in a heavy-duty pickup," said Mike Pruitt, Super Duty chief engineer. "We're excited to be in the nation's largest truck market at the State Fair of Texas announcing we've surpassed the kilotorque barrier and made it standard with every pickup truck featuring a Power Stroke diesel engine
All-new 2020 Ford Super Duty Tremor packs a punch
Model year 2020 also ushers in the all-new Super Duty Tremor model. The truck features an off-road package with unique equipment, such as a front-end lift and Trail Control plus with Rock-Crawl Mode.
Remarkable payload and towing capacities come standard on the truck as well. When properly equipped and sporting a diesel engine, the Super Duty Tremor provides a maximum towing capacity of up to 15,000 pounds for conventional trailers. That number jumps to 21,900 pounds for gooseneck trailers. Maximum payload is 4,210 pounds with the all-new 7.3-liter gas engine.
Advanced equipment makes towing easy
The 2020 Ford Super Duty offers advanced equipment to complement its massive towing and payload capacities. One of the most impressive features is Pro Trailer Backup Assist. The system provides a dedicated knob that allows the driver to guide a trailer via a reverse camera. There's also trailer Reverse Guidance – a feature that shows trailer angle and direction and provides steering suggestions.
Visit the Ford Dealers in Southern California
If you're looking for a truck that tows more, hauls more and does more, check out the 2020 Ford Super Duty. The all-new pickup truck is available at your local participating Southern California Ford Dealers.
Sources:
https://media.ford.com/content/fordmedia/fna/us/en/news/2019/09/26/2020-ford-super-duty-pickup.html
https://media.ford.com/content/fordmedia/fna/us/en/products/trucks/super-duty/2020-f-series-super-duty.html