2020 Ford F-Series Super Duty All-New 7.3-Liter V8 Engine Features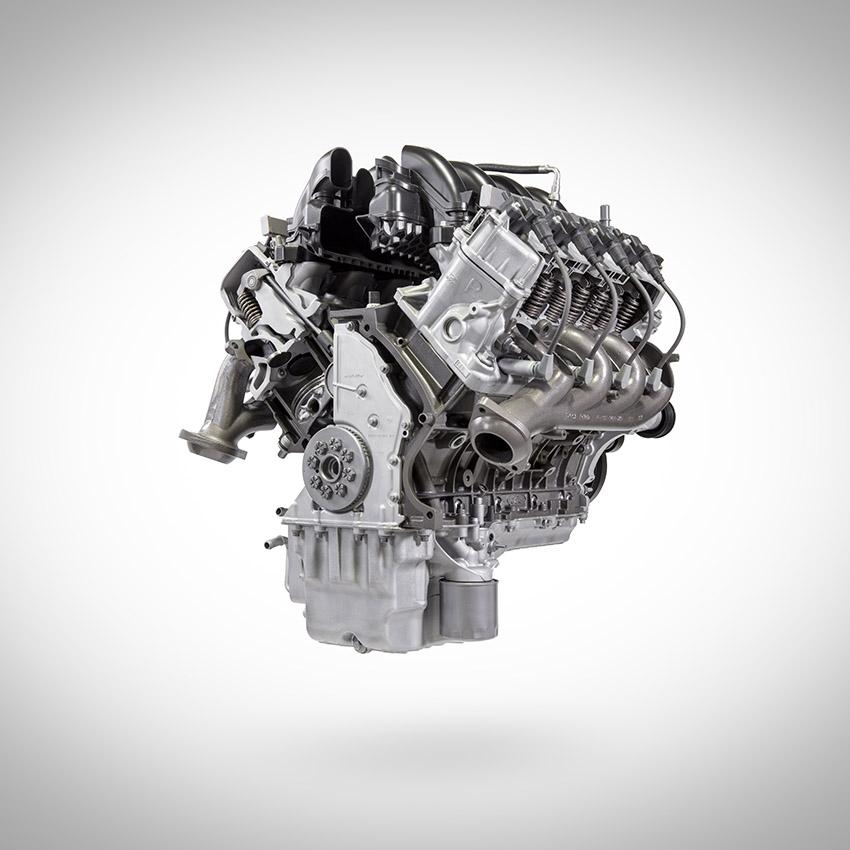 It's not easy staying at the top of your industry for even a few years in a row, so you really do have to stand back in awe at anything that can dominate its part of a market for a staggering 42 years. That's what the Blue Oval has managed with its incredible F-Series Ford trucks, but they only continue to be the best-selling truck in America after 42 years because they're constantly evolving and improving to stay ahead of the competition.
A new standard is set
It almost seems like the light-duty F-150 and the Ford F-Series Super Duty models take it in turns each year to step forward into the limelight with a new raft of improvements. This time it's the 2020 Ford F-Series Super Duty that's going to be grabbing the headlines with a new 7.3-liter V8 engine that takes these heavy-duty trucks to yet another level of gas-powered capability.
This monster 7.3-liter V8 engine in the 2020 Super Duty pickup puts out a best-in-class gas output of 430 horsepower best-in-class torque ratings of 475 ft.-lb. at 4,000 rpm. No rival in the heavy-duty truck segment can offer such a powerful and advanced gasoline engine in such a broad range of specifications, which range from Class 2 Super Duty pickups right through to Class 7 commercials.
Joel Beltramo, the Ford manager for gas V8 engines, says of the new powerplant, "The 7.3-liter is designed for maximum durability in the harshest environments given that our customers live and work in these conditions every day. This engine has the largest displacement in its class and is designed to provide benefits in key areas like power, durability, ease of maintenance and total operating costs."
2020 Ford F-Series Super Duty
Literally decades of commercial engine experience has gone into developing this new 7.3-liter V8 and making it capable of delivering such class-leading performance in what is a relatively compact package. The new 7.3-liter unit features overhead valve architecture that's designed to generate power low in the rev range, which is vital for assisting the heavier loads up and moving faster and with even greater confidence than F-Series engines of the past. The new powerplant also utilizes a variable-displacement oil pump, extra-large main bearings, forged steel crankshaft for durability, and piston cooling jets that have been included help keep engine temperatures under control when the engine is under a heavy load.
To start with, the new 7.3-liter engine will be available first in the 2020 F-250 and F-350 pickup models, where it will join the existing 6.2-liter V8 gas engine and the upgraded third-generation version of the awesome 6.7-liter Power Stroke diesel V8. The new Super Duty towing and payload ratings for the new engine are to be announced a little later in the year, along with power ratings for the upgraded 6.7-liter Power Stroke diesel.
Another version of the 7.3-liter V8 that produces a dyno-certified 350 horsepower at 3,900 rpm and 468 lb.-ft. of torque at 3,900 rpm will now be the standard powerplant for the F-450 chassis cab, F-550, the new F-600, F-650 and F-750 Medium Duty trucks. The F-53 and F-59 stripped chassis models will also get that engine, and a new, upgraded E-Series will also now be featuring the 7.3-liter V8 powerplant.
For more details, to be kept up to date, and to be at the front of the line to test drive the 2020 F-Series with this incredible new engine, get in touch with us today here at Southern California Ford Dealers, the number one choice Ford dealerships across SoCal.
Source:
https://media.ford.com/content/fordmedia/fna/us/en/news/2019/08/01/ford-73-liter-V8-best-in-class-gas-power-torque-heavy-duty-pickup.html