2019 Ford Mustang EcoBoost Fastback features and specs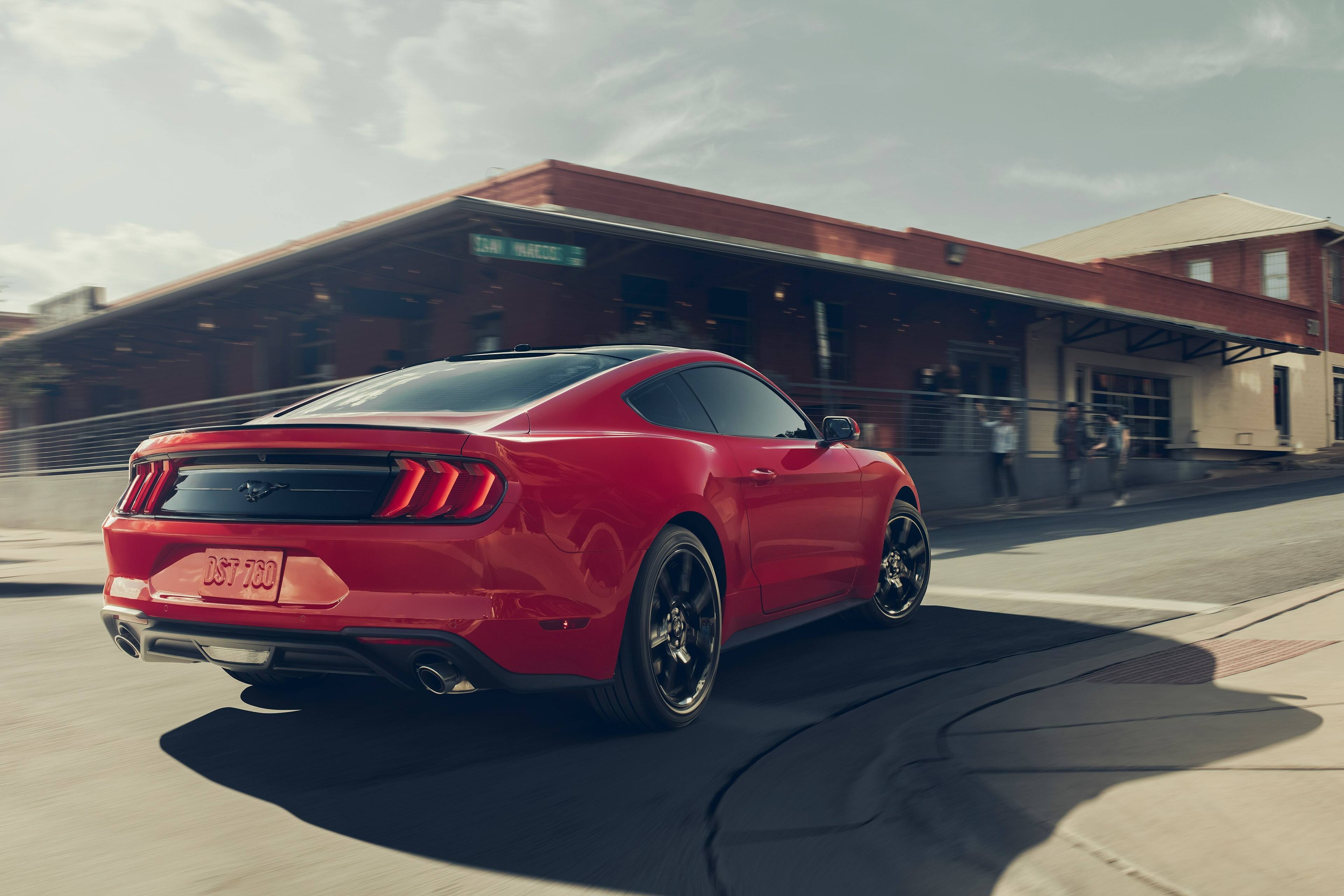 The new 2019 Ford Mustang EcoBoost Fastback features an athletic and modern exterior design that includes a lower, remodeled hood and grille for a meaner, leaner look. EcoBoost models feature all-LED front lights, new front bumper, fascia and an available performance spoiler that improves handling and fuel economy.
The rear of the car gets revised LED tail lamps for a more technical look, plus a new bumper, revised styling and available performance spoiler. A dual bright exhaust is standard on EcoBoost-equipped models.
The Ford Mustang EcoBoost Fastback is powered by a 2.3-liter EcoBoost four-cylinder engine. This sophisticated engine features Twin-independent Variable Cam Timing (Ti-VCT) to adjust valve timing to match the need for power, high-pressure direct fuel injection, and a twin-scroll turbocharger that delivers better low-end power than conventional turbos. The 2.3-liter EcoBoost fitted to the 2019 Mustang delivers 310 horsepower and 350 lb.-ft. of torque.
A 10-speed SelectShift automatic transmission, available with EcoBoost engines, is the best automatic Mustang has ever offered. With a wide-ratio span and optimized gear spacing, this new gearbox helps deliver higher average power for acceleration – improving responsiveness and performance, while the six-speed manual transmission has been upgraded for improved torque handling.
Handling and Response
Performance is at the core of Mustang DNA, offering drivers a unique thrill of acceleration and cornering for the ultimate fun-to-drive experience. New shock absorbers make for better ride control, a new cross-axis joint in the rear suspension leads to increased lateral stiffness, and innovative stabilizer bars bring sharper response and handling.
Favorite Sports Car
Redesigned for the 2018 model year with incremental improvements for 2019, the Ford Mustang isn't just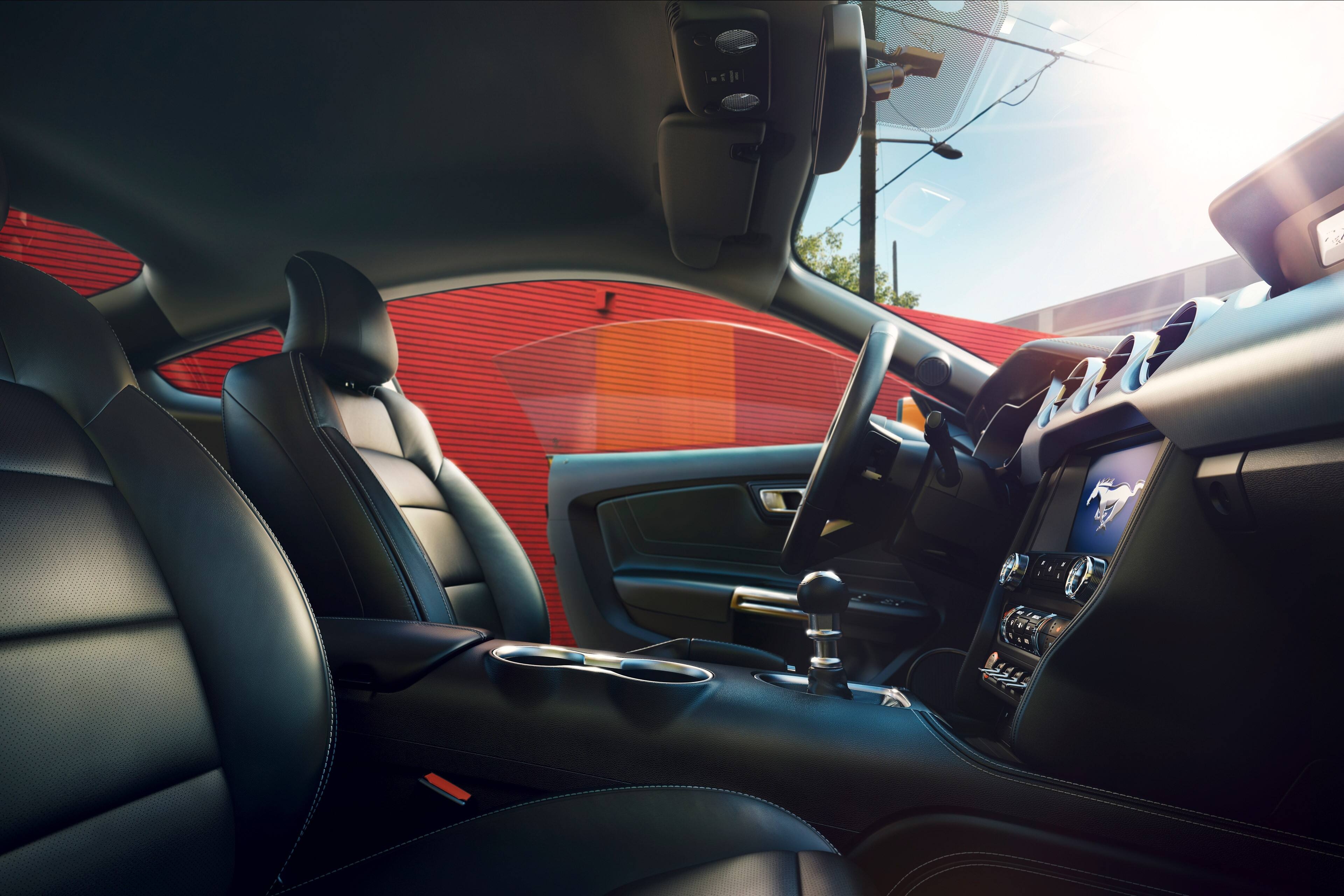 the favorite amongst American drivers, but also with drivers across the globe. Wherever it's driven, the Mustang is the most iconic Ford car around.
From Australia to Peru, Mustang reigns as the best-selling sports coupe for 2018 according to industry data. In fact, 2018 not only marks the fourth straight year of Mustang's global leadership as a best-selling sports coupe, but also as best-selling sports car in the United States.
Technology and Connectivity
Technology and design changes give owners new options to personalize their Mustang, highlighted by the available all-digital instrument cluster. Created in part by former video game developers, Ford's first 12-inch all-digital LCD instrument offers various screen layouts, 26 color options and displays for up to eight gauges. The screen can be easily personalized, offering different views for normal/snow/wet, sport, and track/drag modes. Drivers can use new Mustang MyMode to save their favorite settings for suspension and steering and exhaust note preferences.
Mustang drivers can now enjoy the convenience of Ford SYNC Connect. The available feature gives drivers the ability to use the FordPass smartphone app to start, lock, unlock and locate their vehicle, as well as get updates on various vehicle diagnostics such as fuel level.
A pulsing start button glows red at night before the engine is started, and the instrument panel sports an updated Mustang badge. A heated leather steering wheel is a first-time option for Mustang drivers.
Safety and Security
The 2019 Mustang features a number of Ford driver-assist technologies, including Pre-Collision Assist with pedestrian detection including Distance Indication and Automatic Emergency Braking, Lane Keeping System, and Driver Alert System. The driver assist systems use radar and cameras to recognize objects in the road, and may take autonomous emergency action – such as braking – to mitigate or avoid a collision.
Features like Pre-Collision Assist with Pedestrian Detection, distance alert, lane-departure warning, lane-keeping assist and Driver Alert System are available driver-assist technologies. SYNC Connect with FordPass is available for the first time.
So why hold yourself? To learn more about all the additional standard and available features of the 2019 Mustang EcoBoost Fastback stop by any of the Southern California Ford Dealers and take a test drive today.
Source: