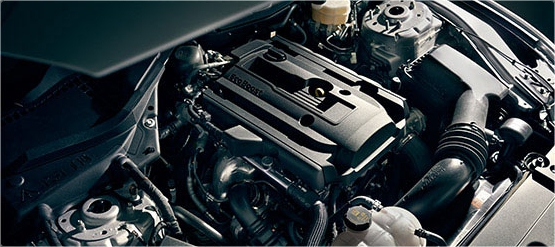 PERFORMANCE
2.3L EcoBoost®
Exhilarating power combined with efficiency that performance drivers will call icing on the cake with 310 hp* and 320 lb.-ft. of torque.* And best-in-class EPA-estimated 21 city/32 hwy/25 combined mpg**. A new optimally sized twin-scroll turbocharger separates the exhaust runners in two chambers that run all the way to the turbine. This transfers high-pulse energy to the turbine wheel, resulting in ultra-fast time-to-torque. If that sounds too technical, don't worry - you'll understand when your foot presses the gas. To put the numbers in perspective, consider this: This new EcoBoost engine has more horsepower with only half the displacement of the 2005 Mustang GT 4.6L V8. That's incredible progress in just 10 years.


*Using 93-octane fuel.
**Class is High-Power Sports Cars. EPA-estimated rating of 21 city/32 hwy/25 combined mpg, 2.3L EcoBoost auto Fastback. Actual mileage will vary.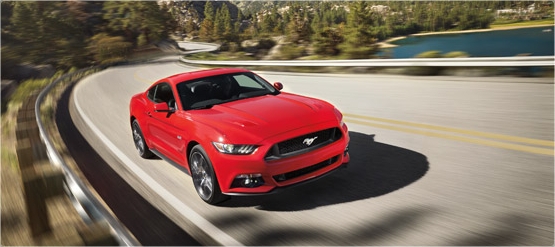 PERFORMANCE
5.0L GT

From the deep, guttural rumble at idle, to the wide-eyed force of torque in acceleration, the available 5.0L Ti-VCT V8 engine is the stuff of Mustang legend. And this year, it's even more powerful with 435* hp and 400 lb.-ft. of torque.* The advanced engine is intended to maximize power generation from every compression, with larger intake and exhaust valves, new cylinder heads with revised high-flow ports and new intake and exhaust camshafts with increased lift.
*Using 93-octane fuel.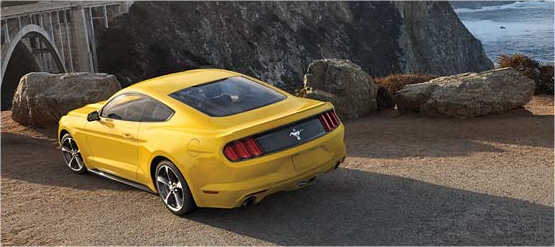 PERFORMANCE
3.7L V6

The 3.7L V6 was the first engine to introduce twin independent variable camshaft timing (Ti-VCT) technology to the Mustang lineup. This throaty six-cylinder produces 300 hp and 280 lb.-ft. of torque. But what's equally impressive is its EPA-estimated 19 city/28 hwy/22 combined mpg*. Ti-VCT provides precise timing and control of the engine's air and fuel intake and exhaust output. It helps enhance peak power, low-speed torque in driving situations like passing and merging, and helps optimize efficiency and cold-start operation.
*EPA-estimated rating of 19 city/28 hwy/22 combined mpg, V6 auto Fastback. Actual mileage will vary.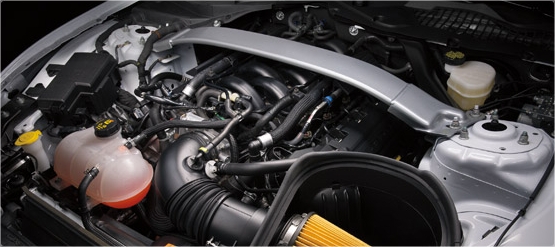 PERFORMANCE
Shelby GT350®
Built to buckle the pavement.

• Enhanced powertrain
The heart and soul of this beast live in the 5.2L V8 engine with a flat-plane crank that produces over 500 horsepower. Bolted to a world-class TREMEC® 3160 6-speed manual transmission and you end up producing more than 400 lb.-ft. of torque.

• Chassis and suspension
The MagneRide™ damping system monitors and adjusts itself thousands of times per second for a dynamic, adrenaline-fueled driving experience. But with our obsession for detail, we just couldn't stop there. Our attention to detail drove us all the way down to which way the springs coiled, therefore requiring new lower control arms. This racer was designed, engineered and built so the springs, sway bars and dampers work together as one finely tuned system. We also added new lightweight chassis components and a set of Michelin® Pilot® Super Sport tires wrapped around lightweight, yet incredibly stiff, aluminum wheels. So yeah, the GT350 will deliver a special rush whenever you strap yourself in behind the wheel.

• Braking
The foundation of any sports car is undoubtedly the brakes; therefore, brakes are a major part of the GT350 magic. So we teamed front and rear Brembo® with cross-drilled, two-piece, highly-engineered brake rotors. The huge 395mm (15.5") rotors up front and 376mm (14.8") rotors in the back complete this tight, hard working system that gives GT350 its well-earned track cred.

• Aerodynamics
Balancing downforce with aerodynamic drag is always one of the biggest challenges a team of car designers can face. But Ford did it with a unique, detailed approach that centered on making it imperative that every single component play a major part in the total overall performance of the system. It's a very hard thing to pull off, but our team of designers and engineers wouldn't settle for less. So it's not just that the GT350 has wider aluminum front fenders and a unique aluminum hood. It's also that the front and rear fascias, splitter, rockers and rear valance with integrated diffuser all work together as a team – each and every one of them. And only as a team working together can this system keep the beautiful, powerful, exciting and intimidating GT350 racer pressed firmly to the track.

The Shelby® GT350 isn't just a combination of "go fast" parts because any tuner can build one of those. The GT350 is a specifically engineered machine where every system works dynamically together as one. No one else can make a car that performs to a world-class level on all fronts as well as living up to Ford durability standards. That truly sets this beast apart. No one but Ford Performance can make a car that performs like this, yet still possesses everyday driveability. We engineered the GT350 so you will say – from the race track to LA city traffic, the GT350 can do it all.
Pre-production vehicle shown. Available Late 2015.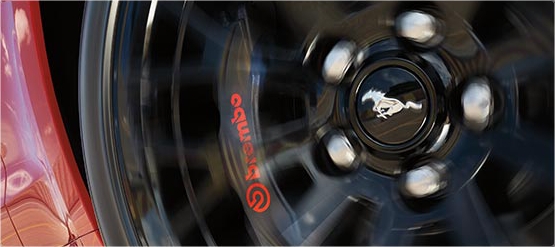 PERFORMANCE
Performance Packages

The GT Performance Package Includes:
• Strut-tower brace
• Larger radiator
• Unique chassis tuning
• Upsized rear sway bar
• Heavy-duty front springs
• Instrument panel appliques are Engine Turn aluminum
• Interior gauge pack (oil pressure and vacuum)
• K-brace
• Brembo™ 6-piston front brake calipers with larger rotors
• Unique 19"x 9" (front) 19"x 9.5" (rear) Ebony Black aluminum wheels
• 255/40R19 (front) 275/40R19 (rear) summer only tires
• Unique stability control, EPAS and ABS tuning
• 3.73 TORSEN® rear axle
• Spoiler delete

The EcoBoost® Performance Package Includes:
• Upsized rear sway bar (Fastback only)
• Unique chassis tuning
• Larger brake rotors with 4-piston calipers
• Unique 19" x 9" Ebony Black aluminum wheels
• 255/40R19 Summer Only Tires
• Unique EPAS, ABS and stability control tuning
• Instrument panel appliques are Aluminum
• Interior gauge pack (oil pressure and boost)
• 3.55 limited-slip rear axle
• Larger radiator
• Heavy-duty front spring (Fastback only)
• Spoiler delete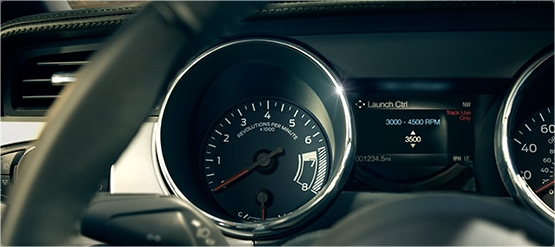 PERFORMANCE
Launch Control
Launch control integrates the brakes, traction control and powertrain control to help ensure smooth, consistent starts for all driving conditions. Real-time vehicle performance info is displayed through Track Apps™ on the in-dash LCD screen. This advanced system can assist drivers of all skill levels to drive like the pros by helping them realize excellent torque balance, grip and acceleration. Launch control is standard on GT and GT Premium models equipped with manual transmission.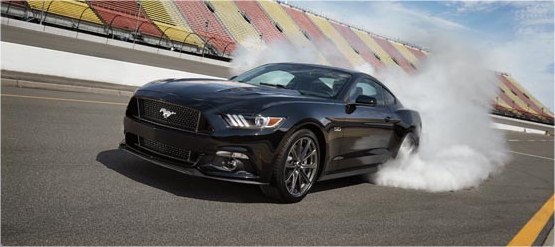 PERFORMANCE
Electronic Line Lock

Electronic Line-Lock, standard on Mustang GT, is the first feature of its kind in the industry, and the perfect tool for Mustang owners who love to test their skills at the track.* Electronic Line-Lock keeps the front brakes locked while releasing the rear brakes, letting you then apply the accelerator to spin and warm up the rear tires to enhance grip. You won't have to balance one foot on the brake and the other on the gas or install a mechanical line lock. With the tires properly warmed up, drivers can pull up to the staging line, engage the launch control** and catapult off the line when the light turns green.
*For track use only.
**Launch control is standard on GT and GT Premium models equipped with manual transmission.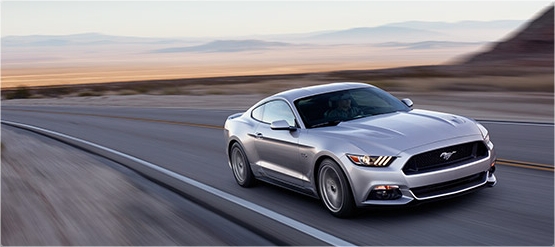 PERFORMANCE
Electronic Line Lock

Customizable driving preferences let you dial in the handling dynamics to your liking.

• Select driving mode with a toggle switch on the center stack
• Choose from four settings: normal, snow/wet, sport and track
• Mustang adjusts its handling and response characteristics to optimize control according to your selection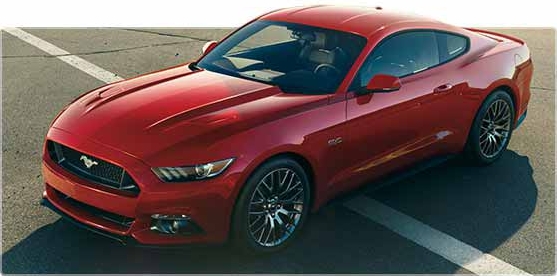 DESIGN
Exterior Design

The classic Mustang Fastback has returned. And with an entirely new energy. The aerodynamics have been improved. The new body is wider and sits lower than the previous model. There are sharp, new signature HID headlamps standard and standard signature LED tri-bar taillamps with sequential turn signals. Dual exhaust pipes are standard on all models, and air extractor hood vents are standard on GT models. And just as a Mustang should be, the 2015 is nearly infinitely customizable to your individual style with a long list of options across all models, including 10 available wheel designs ranging from 17-inch to 20-inch.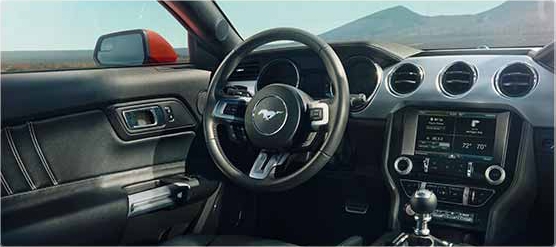 DESIGN
The Cockpit
The new cockpit is built for a performance driving experience. The driver's seat has been set to a lower, sportier position. It has more travel, adjusting closer or farther away from the instrument panel. The new steering wheel is smaller, for a better, more controlled feel, and it manually telescopes as well as tilts. The ideally positioned shifter leaves ample clearances for the controls and the cupholders have been repositioned outside of the shift path. You'll enjoy more knee room in the driver's seat, as well as the comfort of the left-side footrest set to the same angle as the accelerator pedal.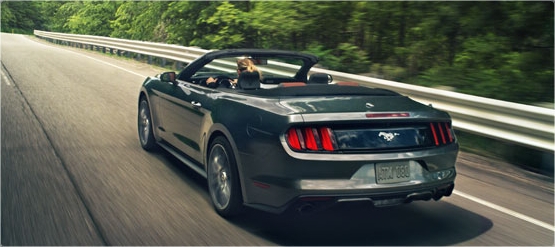 DESIGN
Mustang Convertible

While it shares the same genes as the fastback, the convertible was purposefully designed from top to bottom to be a convertible. And the top is all-new, too, and features a center latch to ease opening and closing from the driver's seat. Electrically driven for quieter operation, it raises or lowers in nearly half the time that of the previous model.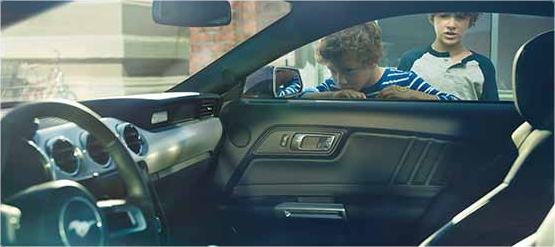 DESIGN
New Interior

Mustang engineers have been listening very closely to Mustang customers, and as a result, the all-new 2015 Mustang interior is loaded with a number of comfort and convenience features. It starts with getting in the car - the front seats now feature memory recline capability that returns the seats to their previously set positions if positions are temporarily changed. The new glove compartment design includes an owner manual bin and light. In the back, there is now a flat-load floor for easier access and cargo management, thanks to the new integral link independent rear suspension. And the new interior storage spaces include a sunglasses holder, because in a car this cool, sunglasses are pretty much mandatory.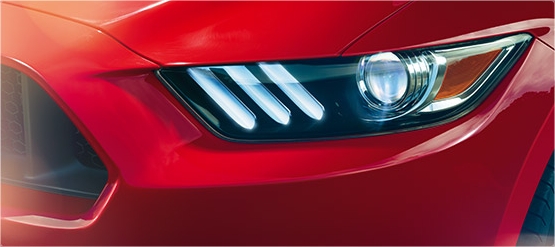 DESIGN
HID and LED Signature Lighting

Coming or going, Mustang illuminates its presence and identity with high-intensity discharge (HID) headlamps with signature LED lighting and tri-bar taillamps with the famous Mustang sequential turn signals. Standard on all models.
DESIGN
Heated and Cooled Seats

The leather-trimmed driver and front passenger seats in GT Premium and EcoBoost® Premium models are heated and cooled, and six-way power adjustment. The driver's seat includes power lumbar support and available driver seat memory.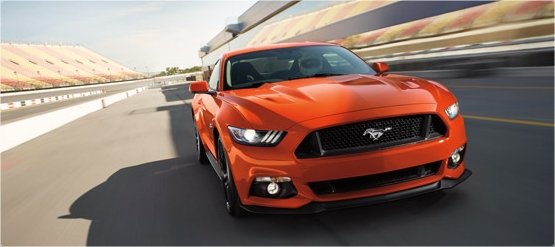 HANDLING
Independent Rear Suspension

The 2015 Ford Mustang features an all-new integral link independent rear suspension that helps improve body roll and isolate road imperfections for a better feel, improved ride and precise handling. Aluminum Alloy rear knuckles and H-arms help reduce unsprung mass. So Mustang now has twice as much anti-squat and nearly 10 times the amount of anti-lift for better pitch control during hard acceleration and braking.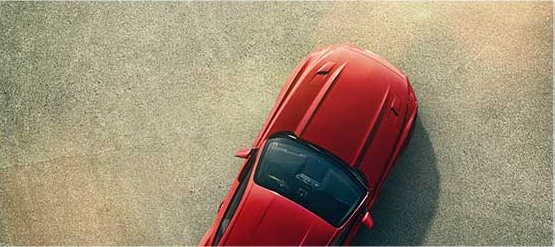 HANDLING
All-New Front Suspension

The 2015 Mustang truly is all-new, with brand-new suspension systems in both front and rear. The new double-ball-joint front suspension improves high-performance driving dynamics, allowing for larger brakes without excessive wheel offsets that would affect steering feel.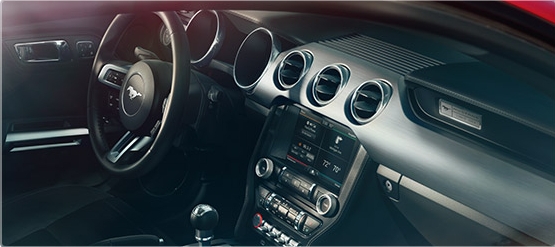 HANDLING
Selectable-Effort Electric Power-Assisted Steering

The advanced – and standard – selectable-effort electric power-assisted steering (EPAS) system offers drivers three power-assisted settings:

1. Comfort
• Requires the lowest steering effort
2. Sport
• Requires the most steering effort
• Driver feels more road force through the steering wheel
3. Standard
• Provides a balance between Comfort and Sport settings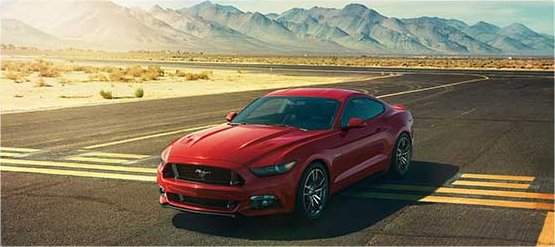 HANDLING
In 2015, Mustang models are equipped with the most capable brake lineup ever offered on a Mustang, delivering significantly upgraded stopping power.

V6 and EcoBoost® models
• Front: Twin-piston with 12.5 inch vented rotors
• Rear: Single-piston with 12.5 inch rotors

GT model and EcoBoost Performance Package
• Front: Four-piston with 14 inch vented rotors
• Rear: Single-piston with 13 inch rotors

GT Performance Package
• Front: 6-piston Brembo® with 15 inch vented rotors
• Rear: Single-piston with 13 inch rotors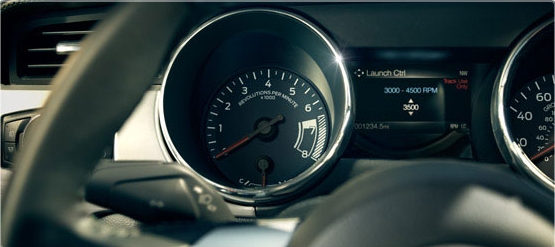 TECHNOLOGY
Track Apps.™ Smoke 'em if you got 'em.
New for 2015, Track Apps™ features Electronic Line-Lock and launch control, and provides performance metrics instantly on the 4.2-inch message center screen in the instrument cluster.

• Electronic Line-Lock keeps front brakes locked while Mustang is in gear to enable warming of the rear tires
• Launch control integrates brakes, traction control and powertrain control to help ensure smooth, consistent starts
• Accessible through steering wheel-mounted five-way button
• Screen features six menu options
• Accelerometer displays lateral and longitudinal g-forces
• Acceleration times, complete with automatic and countdown starts
• Top times, last results, saved results, brake performance

Track Apps is now standard on all models. The Electronic Line-Lock feature can be found on GT models only and is to be used at the track, not on surface streets or highways. Launch control is available only on GT Manual.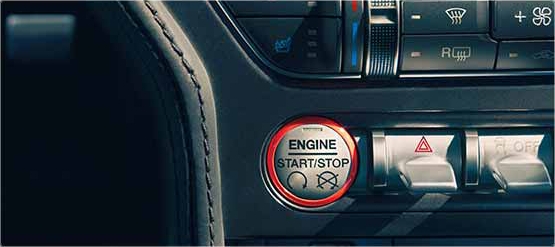 TECHNOLOGY
Intelligent Access with Push-Button Start

Now, even getting into and starting your Mustang is fast, thanks to standard Intelligent Access with push-button start. With the key fob in your pocket or handbag, unlock the driver's door with a touch of the handle. Once inside, press the brake pedal (and the clutch with manual transmission), then start the engine with the push of a button.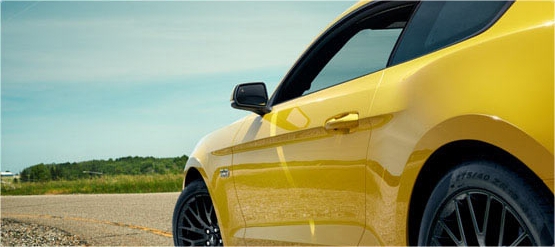 TECHNOLOGY
BLIS® with Cross-Traffic Alert
Available BLIS® (Blind Spot Information System) with cross-traffic alert* helps make driving more care-free. It uses radar to detect a vehicle in your blind spot and alerts you with an indicator light in the appropriate exterior mirror. Cross-traffic alert also uses radar to watch for traffic behind you as you're slowly backing out of a parking spot or driveway. If cross-traffic sensors detect a vehicle approaching from up to 15 yards away, you will be audibly and visually alerted.

*Driver-assist features are supplemental and do not replace the driver's judgment.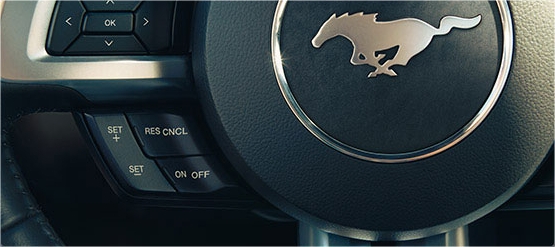 TECHNOLOGY
5.0L Ti-VCT V8
Available adaptive cruise control* functions just like traditional cruise control - with one important difference. When the sensors detect traffic slowing ahead, your vehicle also slows down. And when traffic has cleared, your vehicle resumes the set speed.

Forward collision warning with brake support can alert you if it senses a potential collision with the car in front of you. A heads-up display, which simulates brake lights, flashes on the windshield and provides an audible warning. If you don't react in time, the brakes will precharge and increase brake-assist sensitivity to provide full responsiveness when you do brake.

Rain-sensing wipers feature technology that's there when you need it most. Enable the automatic setting, and they'll turn on automatically when rain or snow is detected on the windshield.

*Driver-assist features are supplemental and do not replace the driver's judgment.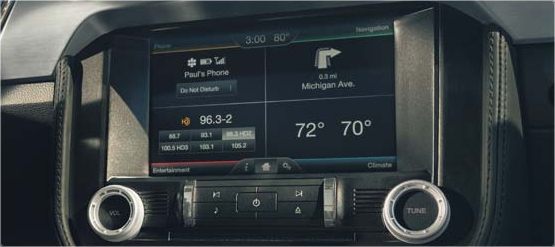 TECHNOLOGY
SYNC® with MyFord Touch®
Hands-free calling means you never have to miss a call. If your phone rings, you can answer with the push of a button, and you can make a call with the sound of your voice.
• Just plug in your compatible digital music player, USB drive or SD card and browse your music collection using voice commands.
• Say "Bluetooth® audio" and you can listen wirelessly to whatever's on your phone, even Pandora® internet radio.48, 53
• Stay connected and you can have your incoming texts read to you with audible text messaging.
• Voice/touch climate control means you can just tell SYNC with MyFord Touch your preferred temperature and it will adjust to suit you.
• A screen in the instrument cluster lets you see key features without taking your eyes off the road.
• 911 Assist® can use your connected mobile phone to call 911 when you can't.28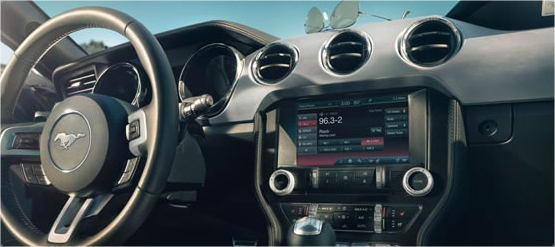 TECHNOLOGY
Shaker™ Pro Audio with HD Radio™
The 390-watt Shaker Pro Audio System with HD Radio Technology is available on EcoBoost® Premium and GT Premium models. The audio system includes an AM/FM stereo, single-CD/MP3 player and 12 speakers including an eight-inch subwoofer which has been smartly-mounted in the trunk without sacrificing storage space. With HD radio Technology, FM stations have CD-quality sound, and AM stations sound like FM stations. Reception is crystal clear, with no audio distortion, buzz, popping or static. Additionally, there are more channels offering more of the type of programming you like, as well as new formats – more music, more news and more sports. Information such as song, artist, breaking news, weather alerts, sports scores and more is displayed on screen. Best of all – there are no subscription fees, plans or monthly bills with this system.

HD Radio is a proprietary trademark of iBiquity Digital Corp.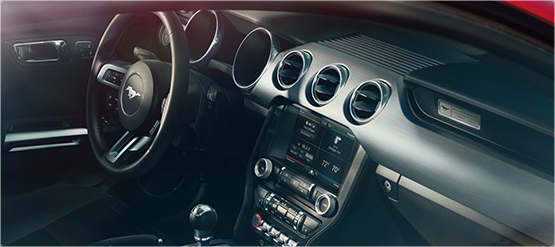 TECHNOLOGY
Navigation System

The available voice-activated Navigation System includes a free five-year subscription to SiriusXM Traffic and Travel Link34 which combines Global Positioning System (GPS) technology with 3-D mapping and provides voice-guided turn-by-turn directions.

With SiriusXM Traffic and Travel Link34, you'll get detailed traffic information, plus current and forecast weather, gas station locations and prices, sports scores and schedules, and theater locations with movie listings and times.
Get Your Free Quote
All fields required