2015 Ford Fusion Hybrid vs Kia Optima Hybrid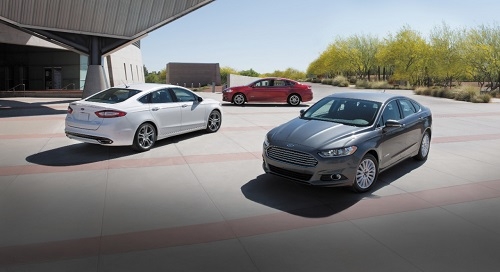 The mid-size family sedan segment is the most hotly contested market in the automotive industry. Thus, it's not surprising that automakers compete ferociously in offshoot battles like those among hybrid versions of those cars. The 2015 Ford Fusion Hybrid triumphs over one such competitor, the 2015 Kia Optima Hybrid, thanks to its fuel-efficient powerplant, exclusive safety tech and plentiful creature comforts.

Performance: Drivetrain, Mileage and More
Both the Fusion Hybrid and the Optima Hybrid use four-cylinder engines paired to an electric motor and battery pack. The Fusion, though, bests its Korean competitor in acceleration and in fuel economy. While the Optima gets 37-38 mpg in combined driving, the Fusion is rated 5 more at 42 mpg in similar tests. The Blue Oval's offering is able to do so thanks to fuel-saving technologies like a continuously variable transmission, regenerative brakes, and grille shutters that actively open and close to reduce drag. Drivers are also "coached" to drive more conservatively (and thus save on fuel) via the innovative SmartGauge with EcoGuide feature found the dashboard.
Safety and Convenience
Safety, as you can imagine, is an important selling point in the mid-size family sedan market. While both the Fusion and Optima hybrids come with such standard safety tech as anti-lock disc brakes, traction control, electronic stability control, and plenty of air bags, the Fusion Hybrid takes an additional step with a standard rearview camera system. That's an optional ‒ and more expensive ‒ feature on the Optima Hybrid. Ford then improves passenger safety with technologies like inflatable seatbelts for the rear row passengers and Torque Vectoring Control. The latter feature allows greater driver control and handling of the sedan when making tight turns at high speeds. Both features are unavailable on the Kia Optima Hybrid.
The 2015 Ford Fusion Hybrid comes with more conveniences as well. The sedan's power adjustable seats, for example, have more settings than those in the Kia Optima Hybrid. This allows passengers to configure them for their level of comfort. Those same passengers will be pleased to know they're helping preserve the environment thanks to the use of recycled materials in the seats as well as in other areas of the interior.
Another feature lets Fusion Hybrid owners alter the ambient lights in such parts of the car as the front foot wells. This helps create a more relaxing experience for those long road trips. Finally, the Fusion Hybrid comes standard with MyKey. This Ford's exclusive gives parents the ability to set certain parameters like vehicle speed and audio volume for their teen drivers.
In Conclusion
The war among automakers for consumers' hearts and pocket books is an intense one. The battles are particularly fierce in the family mid-size sedan segment. Ford made sure its Fusion Hybrid is the winner over opponents like the Kia Optima Hybrid in contested areas like mileage, safety and equipment.