2015 Ford F-150 vs 2015 Chevrolet Silverado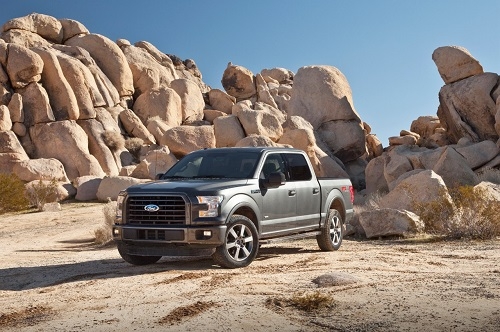 The competition between the Ford F-150 and the Chevrolet Silverado is one of the longest in the automotive industry. If you say ‒ out-loud ‒ one's better than the other, you'll quickly provoke a shouting matching from the other truck's supporters worthy of a soccer game audience. When all is said and done, though, there's no denying the fact that the F-150 is both the best-selling pickup and vehicle in the US.
Performance: Drivetrain, mileage and More
Ford uses the tagline, "Built Ford Tough", for its trucks and with good reason. The F-150, throughout its history, has been a leader in engine power, tow capacity and cargo room versus competitors like the Chevy Silverado. For 2015, the automaker took a giant leap forward in truck innovation with the use of military-grade aluminum throughout the F-150. This improves its already excellent fuel economy while allowing faster acceleration. Ford introduced a new 2.7-liter turbo-charged V-6 to the 2015 F-150 lineup that delivers better mileage not only against the Silverado, but other gas-powered pickups as well.
Don't think the use of aluminum lessened the F-150's ability to pull heavy loads, though. The pickup has greater tow capacity pound-per-pound than the previous generation model. This allows F-150s equipped with the available 3.5-liter V-6 turbo to haul as much as V-8 equipped Silverados. The lighter Ford can handle more payload for its gross vehicle weight rating as well.
Safety and Convenience
Finally, the 2015 Ford F-150 stays ahead of the Silverado with its numerous configuration options. F-150 shoppers have three body styles, three bed lengths, four engines and five trim levels to choose from. That's several more than those offered on the Chevy. The F-150 comes with many innovations that are either costly on competitors' models, or simply unavailable. You're forced to upgrade your Silverado, for example, to get cloth seats and a tilt-and-telescoping steering wheel which come standard on the base F-150. And Silverado shoppers are out of luck if they want more sophisticated items like the F-150's second-row inflatable seatbelts and a 360-degree top-view camera system.
In Conclusion
The pickup market continues to be one of the most hotly contested automotive segments in the US. Truck makers continually battle in such categories as engine power, cargo and tow capacity, and technology. Ford consistently is among the leaders with its F-150 thanks to innovations like the use of aluminum, available advance technologies and ease of truck configuration.