2015 Ford Explorer vs. 2015 Honda Pilot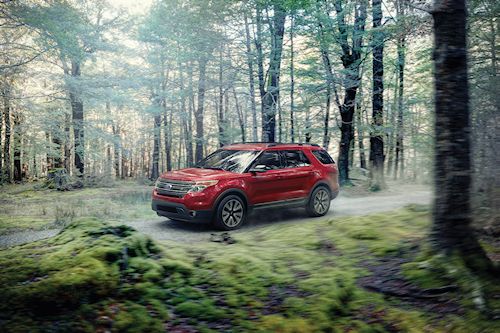 Competition in the car market is fierce, from subcompacts to the biggest crossovers. The crossover market includes the 2015 Ford Explorer and its Honda counterpart, the Pilot. As people transporters, both vehicles perform well. However, a closer look reveals the Explorer to be the superior vehicle, especially when it comes to utility and ease-of-configuration.
Performance: Drivetrain, Mileage and More
Both the 2015 Ford Explorer and the 2015 Honda Pilot are offered in four main trim levels. Buyers, though, have far more choices available to customize the Explorer than the Pilot. Ford's crossover is offered with three engine choices: a 3.5-liter V-6 engine, a turbocharged 2.0-liter four-cylinder, and a turbocharged 3.5-liter V-6. The Pilot, on the other hand, only comes with a 3.5-liter V-6.
All three of Ford's powerplants are comparable to the Honda engine in power, fuel economy and towing capacity. Ford's offerings, though, get higher marks in many categories. Explorers equipped with the turbo 2.0-liter engine get 23 mpg in combined driving. That's more fuel-efficient than the Pilot, which is rated at 21 mpg combined. The Explorer Sport and its 3.5-liter V-6 churns out 365 horsepower and 350 lb.-ft. of torque. That leaves the Pilot, with its 250 horsepower and 253 lb.-ft. of torque, to rapidly fade in the Sport's rearview mirror.
Safety and Convenience
The Ford Explorer's feature set is extended even further with a host of available options. The mid-level XLT comes with three available equipment packages. Two are offered on the top Limited model. Even the well-equipped Explorer Sport can be had with an option package (401A). For the most part, Honda Pilot buyers are stuck with the features that come with each trim level. If you want a rear-seat entertainment system to keep the kids in back occupied, you'll have to spring for the more costly Pilot EX-L or Touring. And if you get the former, you'll have to forgo the navigation system. Both features are only available in the Touring. For the Explorer, both the entertainment and navigation systems are offered in the XLT, Limited and Sport trim levels.
Finally, the Ford Explorer comes with the latest tech features in the industry. Many are simply not available on the Pilot. The latest advanced safety technologies, including blind spot detection and lane departure warning, are offered on the Explorer but not on the Pilot. This is also true with creature comforts like ventilated (i.e., "cooled") seats, a feature typically found in luxury vehicles.
In Conclusion
Today's car shopper expects more from their vehicle beyond just simple transport. With more engine choices and the latest automotive features, the 2015 Ford Explorer bests rivals like the Honda Pilot.