2015 Ford Edge vs 2015 Nissan Murano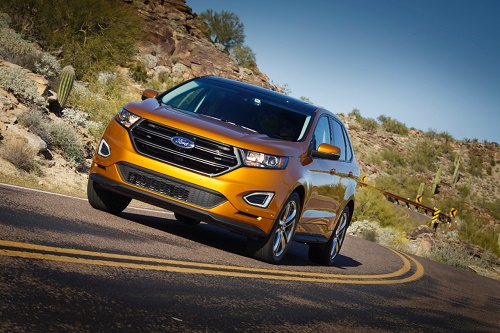 Both the Ford Edge and Nissan Murano have brand-new models for the 2015 model year, which is no coincidence: Crossovers have never been more popular in the US, and automakers are constantly upping their games with the latest innovations and technologies. It's just that the Edge lives up to its name with a much more popular package that's seeing significant sales increases now that the new editions are in stock.
Powertrains with Performance and Efficiency
Ford's hallmark EcoBoost engines deliver an instant advantage for the Edge, which actually offers two of them for customers. The standard 2.0-liter, four-cylinder EcoBoost powerplant provides more torque and higher highway fuel-economy ratings than the standard engine in the Murano, as well as a maximum tow rating that's more than twice that of the Nissan. It's almost as if some manufacturers forgot that customers count on their crossovers for more than just getting the groceries. Further, only the Edge can furnish a dedicated Sport model, with a 2.7-liter V-6 that leaves the Murano's standard engine far behind.
Also, to be clear, Nissan has just one engine for the Murano, while the Edge can furnish not just those two EcoBoost powerplants, but also a robust, 3.5-liter naturally aspirated V-6 for the up-range trim levels, including the new range-topping Titanium trim.
A Safe and Comfortable Cabin
It's a similar story inside, too, where the Edge goes above and beyond the expected content levels with Ford-only features that the Murano simply doesn't match. For example, the Edge naturally furnishes top driver-assistance measures, but then introduces inflatable rear seatbelts that aren't available on any Murano models. On the topic of safety, it's also worth noting that the Edge has earned a 5-Star Overall Safety Rating from NHTSA, something the Murano couldn't accomplish.
Additionally, the Edge provides noticeably more passenger space, in both rows, than the Murano, as well as more total cargo room, and it offers luxury cues that the Nissan lacks, such as a hands-free rear liftgate that can be opened with a subtle kicking motion beneath the rear bumper.
In Conclusion
Customers can expect the competition among today's crossover to remain red hot, and that's to their benefit, as it means continuous improvement throughout the segment. For Ford, though, that's business as usual, allowing vehicles like the Edge to showcase exclusive powertrain technologies, cutting-edge safety measures and premium comfort features